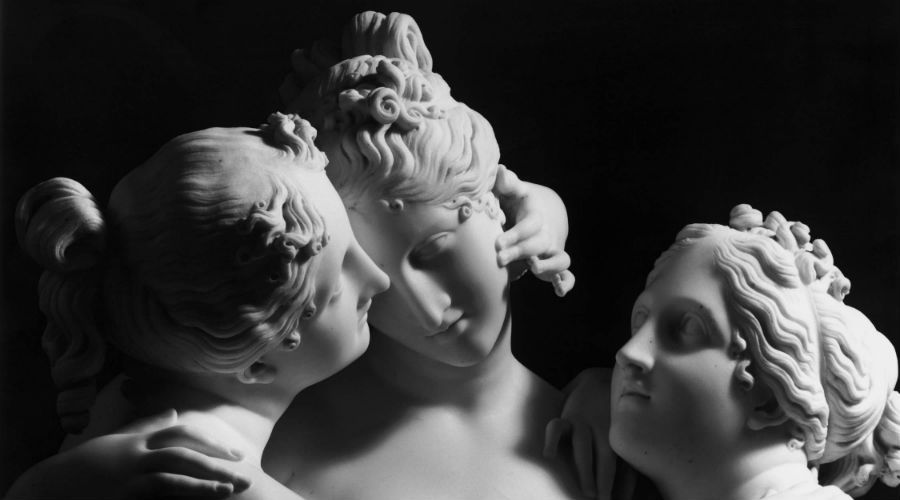 An unmissable exhibition on Antonio Canova at the Archaeological Museum of Naples: among the 110 works, 12 sculptures on loan from the Hermitage, such as Le Tre Grazie and Amore e Psiche Stanti.
From the 28 March at the 30 June at 1 July 2019 il National Archaeological Museum of Naples (MANN) host 110 works by the famous neoclassical sculptor Antonio Canova, including some masterpieces currently kept in the artistic collection ofHermitage of St. Petersburg. It is 12 large marbles and more than 110 works among large models, bas-reliefs, plaster casts, models and drawings.
The exclusive exhibition, entitled Canova and the ancient it will be a truly unique opportunity for art lovers but also for those wishing to see live, in one of the most important museums in Naples and in Italy, the magnificent sculptures by Canova, an artist with incomparable talent worldwide.
The event stems from an important agreement signed between Mikhail Piotrovsky, director of the Hermitage of St. Petersburg, and Paolo Giulierini, the director of the National Archaeological Museum of Naples, and is part of the initiatives organized within the framework of theYear of Russian Culture in Italy, which includes exhibitions, loans and projects of various kinds in synergy between Russia and Italy.
The 110 works by Canova on display at the Archaeological Museum of Naples
Six will be the masterpieces in marble by Antonio Canova exposed at the National Archaeological Museum of Naples for the exhibition Canova and the ancient, a loan from the very important museum of the Hermitage truly unique for the relevance of the selected works.
In fact, it will be possible to admire the best known works created by the talent and chisel of Antonio Canova, like the Genius of death Dancer Standing Ebe, the Winged Amorino, and even the sculptures Love and Psyche standing and the de group The three Graces, emblem of the classical ideal of universal beauty. There will also be a statue, almost three meters high, de Peace, which comes from Kiev, e the Apollo which is crowned of the Getty Museum in Los Angeles.
In addition to the works of Canova they will also arrive at the Archaeological Museum of Naples two other sculptures from the Hermitage: the Roman statue Sleeping Hermaphrodite (III century BC) and the bronze group of Hercules and Lica.
An exhibition on Pompeii at the Hermitage in St. Petersburg
But there is also another important event in the program, born from this valuable cultural exchange between Russia and Italy, and in particular between St. Petersburg and Naples. The MANN and the Soprintendenza di Pompei are organizing an exhibition on the city of Pompeii and on the eruption of the Vesuvius of 79 AD. to be held in St. Petersburg. The exhibition will also be hosted by the Hermitage in March 2019, in the same period of the Canova exhibition hosted at the Archaeological Museum of Naples.
Information on the exhibition Canova and the ancient in Naples
When: from the 28 March at the 30 June at 1 July 2019 (closed Tuesday)
Price tickets:
Full € 15.00
Reduced € 7.50
citizens of the European community aged between the 18 and the 25 € 2.00 years
for the entire duration of the Canova and the Antico exhibition, visitors who present the TIC, the integrated Campania ticket of Unico Campania, are entitled to 2 euro discount on the ticket price
Citizens under the 18 years of the European Community and non-EU citizens free
Hours: from the 9.00 19.30
Where: National Archaeological Museum of Naples, Piazza Museo 19