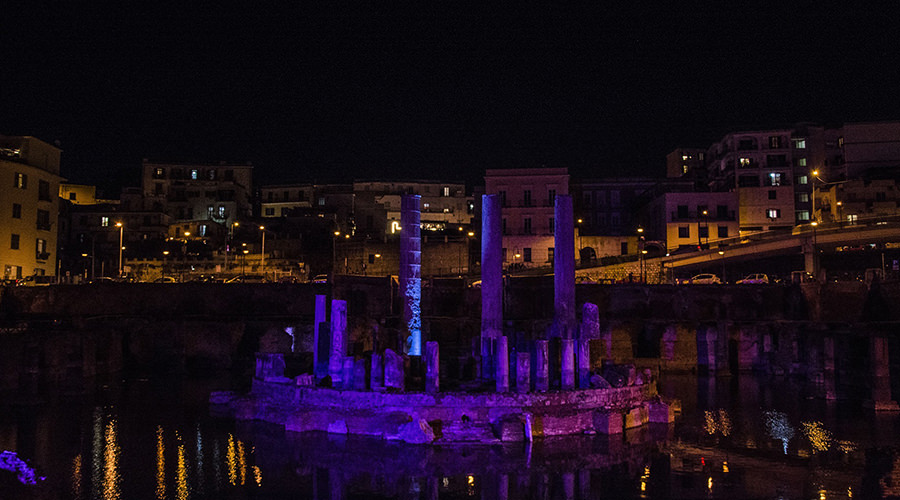 Play of light and bright scenery with the new lighting path of the Temple of Serapis in Pozzuoli inaugurated by a free concert!
After many years of closure, the Temple of Serapis a Pozzuoli will be re-opened to the public again with a big event that could inaugurate a season of initiatives and shows and which will be enriched by the new and suggestive LED lighting that will enhance the structure. The date is Wednesday July 18 2018 and the evening will be an unmissable emotion thanks to the free concert organized by the Civitas Award.
The public can again walk in the garden of the Temple between music and games of light.
The appointment is titled "The Soundtracks", An intelligent play on words that refers to both the concert of the The Modern Movie Classic Orchestra that will play most beautiful soundtracks of the cinema and to the new lighting journey of the Macellum, characterized by its stone columns.
The Civitas, whose creator is Paolo Lubrano, wants to enhance the artistic, cultural and historical heritage of Pozzuoli and the synergy with the institutions will contribute to making the town an even stronger tourist attraction.
The new lighting path of the Temple of Serapis
Thanks to the light designer Fabio Cannata, who conceived the project, to the Graded who realized it and to the collaboration with the Led Generation, the Macellum or Temple of Serapide will live a new life with the lighting path which will finally enhance its history and beauty. There will be night light games on the marble columns and floor and many sets of colors.
The structure, then, in addition to having its ordinary lighting, will be highlighted by this new beautiful project that will start the 18 July, especially at night.
Le LED sources managed remotely are 149.
The free concert in the Temple of Serapis
To inaugurate this new lighting path there will be the concert of The Modern Movie Classic Orchestra, as mentioned, which will make the audience listen to great soundtracks like those of Ennio Morricone, including Nuovo Cinema Paradiso, Once upon a time in America, the Good, the Bad and the Ugly, and those of Nicola Piovani, as Mediterranean and Life is Beautiful. There will also be works by Nino Rota, who signed the music de The Godfather, And Luis Bacalov, who made music de The postman.
In total, the music we will listen to will be 27.
Future projects
This inaugural event could be the first of a series of events that will see the Temple of Serapis as a location and could be born Festival of the Macellum with evening openings, theater show, concerts e dance.
The project also includes the daytime use of the Temple to give citizens and tourists the opportunity to visit it.
Free concert information
When: 18 July 2018
Where: Temple of Serapis, via Serapide 13
Timetable: 21.00
Price: free
[Votes: 0 Media Rating: 0 / 5]