From 17 19 to November, the ancient Village turns into a lively stage for the seventh edition of "Novello and Chestnuts". This festival is dedicated to lovers of good food and fun, thanks to the combination of culinary delights with a varied entertainment program. It's the perfect opportunity to immerse yourself in local traditions, savor authentic dishes and enjoy a festive and engaging atmosphere.
The program of the event
Each day of the festival offers unique and unforgettable moments:
Friday November 17

18:00: Opening of the stands wine and food.
21:00: Concert of the "Baraonda Music Band".
23:00: DJ set.

Saturday November 18

18:00: Opening of the stands wine and food.
20:00: Tour-Recuso, guided tour of the historic center (by reservation).
21:00: Live music with "Terra Mia Folk Band".
23:00: DJ set.

Sunday November 19

09:00"Divine Path", urban trekking to explore torrecuso.
12:00: Opening of the stands wine and food.
22:00: "Novello & Castagne" lottery.
22:30: DJ set.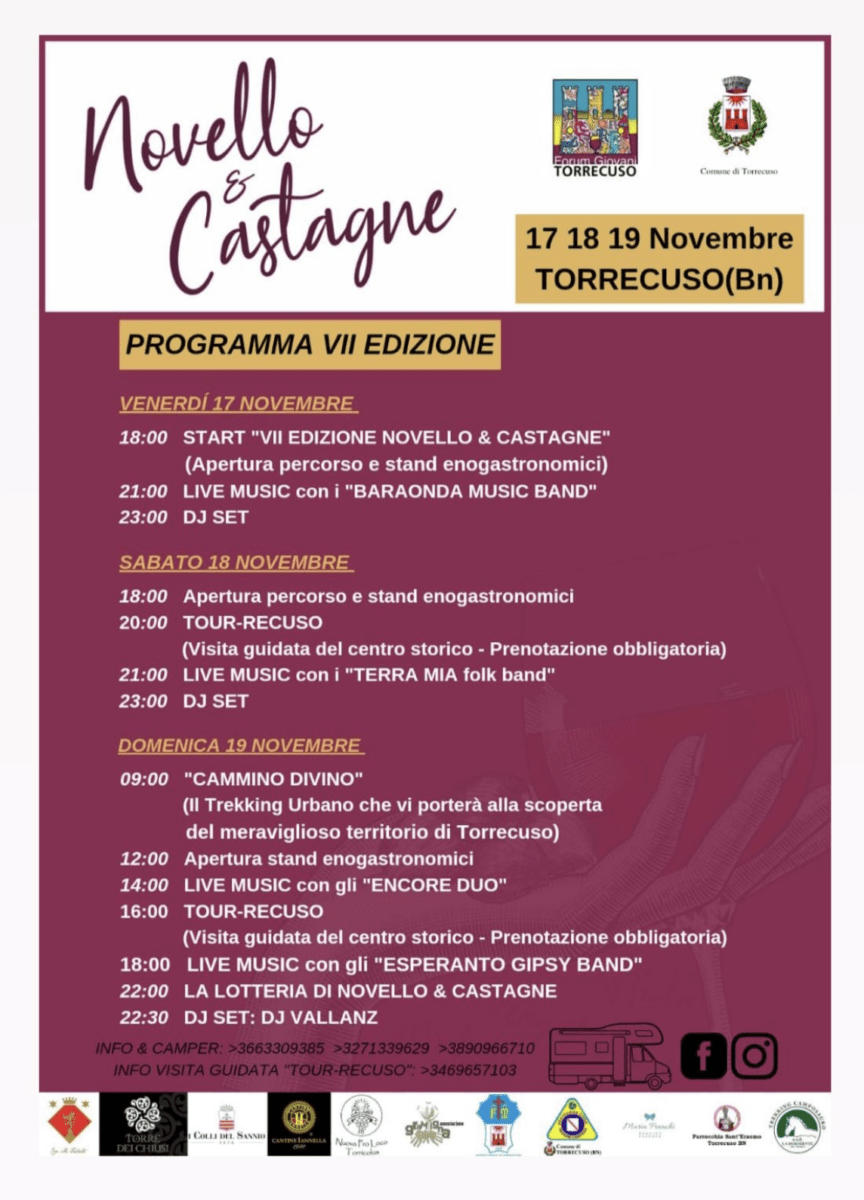 The main course and more
Le chestnuts, protagonists of the event, are offered in various delicious preparations and accompanied by a selection of local wines. The food and wine stands offer a culinary experience that celebrates the flavors of local tradition, promising to delight every palate.
The other activities
The festival offers a rich assortment of activities for all tastes:
Live concerts every evening with bands from different musical genres for a unique sound experience.
DJ set post-concert to dance and have fun until late at night.
The "Divine Path", an urban trekking route that reveals the wonders of torrecuso.
La "Novello & Castagne" lottery, with the chance to win exclusive prizes.
Il Tour-Recuso, an immersion in the historical heart of torrecuso.
contacts and information: official Facebook page