The wonderful La Mortella Gardens of Forio in Ischia finally they reopen to the public and can be visited again. And so, after the winter break, you can again immerse yourself in unspoiled nature, among the Late Camellias, lavender, poppies, gladioli and the beautiful ones Waterlilies take a seat on the pools of water.
A truly special place characterized by particular flowers and plants that come from different parts of the world, from America to Australia, from Africa to Japan. The Garden, which was created in 1956 by the landscape architect Russel Page, It is divided into two zones, a lower part, in the Valley and a top on the hill.
The opening of the wonderful Gardens coincides with the start of the musical event seasoni, which will generally take place over the weekend, until October 2022, excluding August.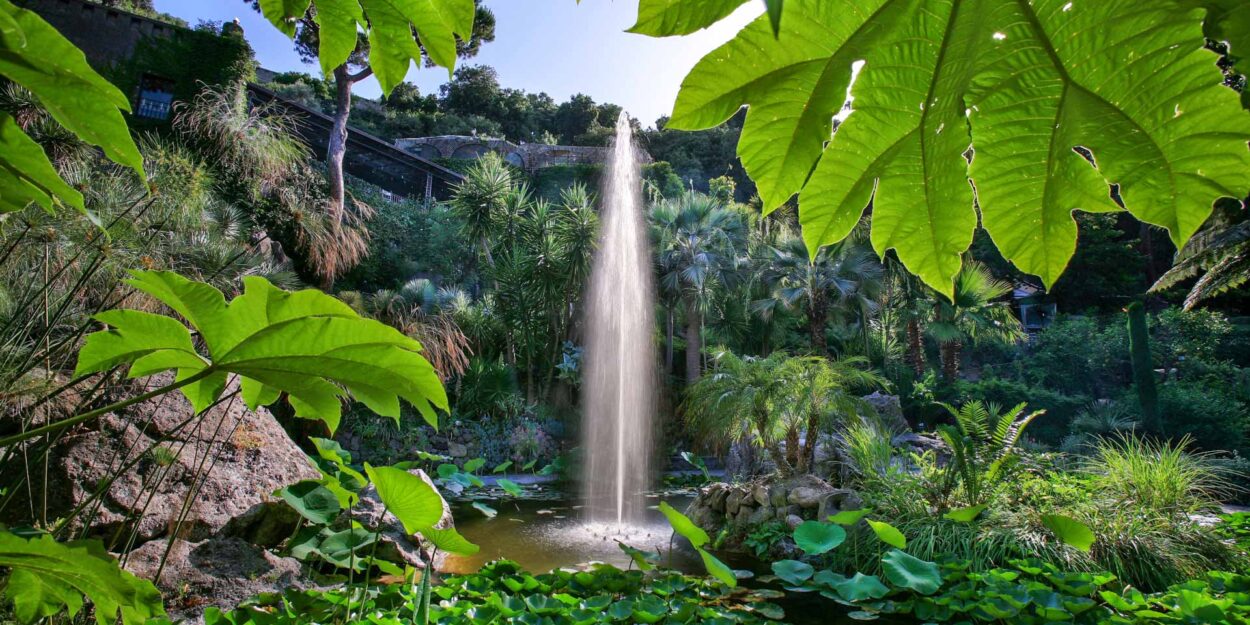 The concert program
As every year, the concerts are divided into two sections, one dedicated to chamber music and the other dedicated to symphonic music. Let's see the program:
April 30th and May 1st
At 17 pm the Duo M.Cimatti, M. Gaggini, violin and piano music by Mozart, Beethoven and Shumann
7 and 8 May
At 17:00 Shaborùz Quartet, strings and music by Haydn, Beethoven
14 and 15 May
At 17:00 Francois-Xavier Poizat, piano, music by Ravel Strawinsky
21 and 22 May
At 1700 - Boidi Piano Duo - 2 Pianos music by Ravel, Liszt, Gershwin
28 and 29 May
At 17:00 Gabriele Strata - Piano music by Chopin, Couperin, Satie, Dutilleux
4 and 5 June
At 17:00 Alpha Quartet - Saxophones music by Jenkins, Bizet, Piazzolla, Gershwin
11 and 12 June
At 17:00 Claudio Berra - Piano music by Chopin, Schumann, Skrjabin
18 and 19 June
At 17 pm Duo E. Testa - F. Navelli - Cello and piano music by Beethoven, Debussy, Boulanger, Brahms
25 and 26 June
At 17: 00 Elia Cecino - Piano music by Liszt, Schumann, Debussy, Bartok
July 3
At 17:30 pm Trio Quaranta, Baroni, Capoferri - Trombone, guitar, pf. music by Astor Piazzolla
July 10
At 17 pm Francesco Scelzo - Guitar music by Walton, Villa-Lobos
July 17
At 17 pm Duo A. Parfitt - L. Traverso - Cello and piano music by Beethoven, Prokofiev
July 24
At 17 pm Duo F. Aiello - P. Caroli - Harp and piano music by Handel, Dussek, Rolla, Debussy
July 31
At 17 pm Luigi Borzillo - Piano music by Rachmaninoff, Chopin, Lisz
How to participate
To participate you will need to buy a ticket on 081986220 or buy it directly at the ticket office of the Giardini.
Information on concerts at the Mortella Gardens
When
Garden visits on Tuesdays, Thursdays, Saturdays and Sundays from 10:00 to 19:00
Concerts on weekends, starting April 30, consult the program
Where
Giardini La Mortella, Via Francesco Calise Worker Foriano, 45, 80075 Forio NA
Price
Entrance to the garden full ticket 12 euro, reduced 10 euro (adults over 70 years, children from 12 to 18 years and residents of the municipalities of the island) 7 euro children (from 6 to 11 years), free for children up to 5 years and disabled people with a disability of more than 51%
Concerts with visit to the garden full ticket 20 euros, reduced 15 euros (children from 12 to 18 years residing in the municipalities of the island), free for disabled people with disabilities of 51%
Contact us
Official website | information and reservations: 081986220
Anti-Covid rules
For concerts that take place indoors:
Reinforced Green Pass
FFP2 mask
Are you looking for something in particular?