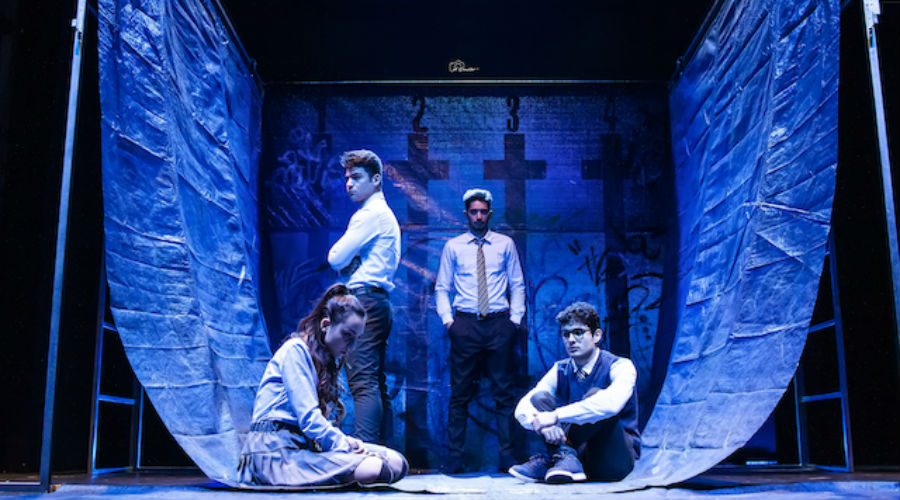 The head under water is a show written by the Catalan author Helena Tornero and inspired by a true history of bullying and youth violence.
From 11 to 13 January 2019 will be on stage at New Health Theater of Naples lo spettacolo The head under water, written by the Catalan author Helena Tornero, translated by Alessio Arena and directed by the director of Riccardo Ciccarelli, known face of the series "Gomorra" and formed in the school of the now famous theater of the Health District.
The pièce is part of the project "Circle Festival" dedicated to European dramaturgy and realized with the support of MIBAC and SIAE. On stage Giampiero De Concilio, Mariano Coletti, Ciro Burzo and Arianna Cozzi, actors of the young company of the Nuovo Teatro Sanità.
The head under water intends to tackle current and very delicate issues, such as collective intolerance, social exclusion, relationships between parents and children, youth violence, inspired by a true story of bullying which has teenagers as protagonists. The protagonists of the show are Sara, Stefan, Josué and Thomas, four guys who spend the summer attending the same pool. Among early loves and small rivalries stand out the different characters of Stefan, a weak and influential boy, and Thomas, a self-confident bully, but between which an unusual complicity is established. Everything is complicated when Stefan sees Josuè kissing Sara and asks Thomas for help, who has in mind a cruel and extreme plan that will make Josuè remain forever under water so that Sara can definitely forget it.
The author Helena Tornero comments with these words on her theatrical work which arises from profound reflections on the youth world: "I eliminated the adult world, because more than telling the story of the story and understanding what happened, I'm interested in telling the boys, their loneliness. I preferred to talk about young people, of what emotionally makes them enter into relationships with each other and makes them perform certain actions. This seems to be the determining nucleus, the truth that I needed to investigate through the theater ".
Information on the show The head under water
When: from 11 to 23 January 2019
Price tickets: 5 €
Where: New Sanità Theater, Piazzetta San Vincenzo, Naples
Info and reservations: 3396666426; info@nuovoteatrosanita.it
[Votes: 0 Media Rating: 0 / 5]