Il September 19th it is a date marked in red on the calendar of Neapolitans and many devotees around the world. There Solemnity of San Gennaro, in fact, represents a religious and cultural event of great resonance, deeply rooted in the tradition of the city of Naples. This year, as usual, the celebration will see widespread participation both on site and through digital media. Here is all the detailed information so you don't miss a single moment of this solemn day.
Where to follow the miracle of San Gennaro (TV channels)
For all those who will not be able to attend the celebrations in person Cathedral of Naples, there are valid alternatives to stay connected to the event. The live television will in fact be guaranteed by Channel 21, available on channel 10 of Digital Terrestrial in Campania and on channel 19 in Lazio. Furthermore, it will be possible to follow the celebrations in streaming on the official Canale 21 website, a practical solution for those who prefer to use mobile devices such as tablets and smartphones.
San Gennaro, the program for 19 September 2023
La Curia of Naples outlined a precise program for the day, allowing everyone to follow the various phases of the Solemnity. Here are the details:
Cathedral Church
8 hours: 00: Santa Mass
9 hours: 00: Celebration of the Passion of San Gennaro
10 hours: 00: Holy Pontifical Mass, chaired byArchbishop Monsignor Domenico Battaglia, with display of the ampoule containing the relic of blood. Followed by the city's blessing in the churchyard.
12 hours: 30: Santa Mass
16pm - 00pm: Veneration of the blood relic
18 hours: 30: Santa Mass, led by the auxiliary bishop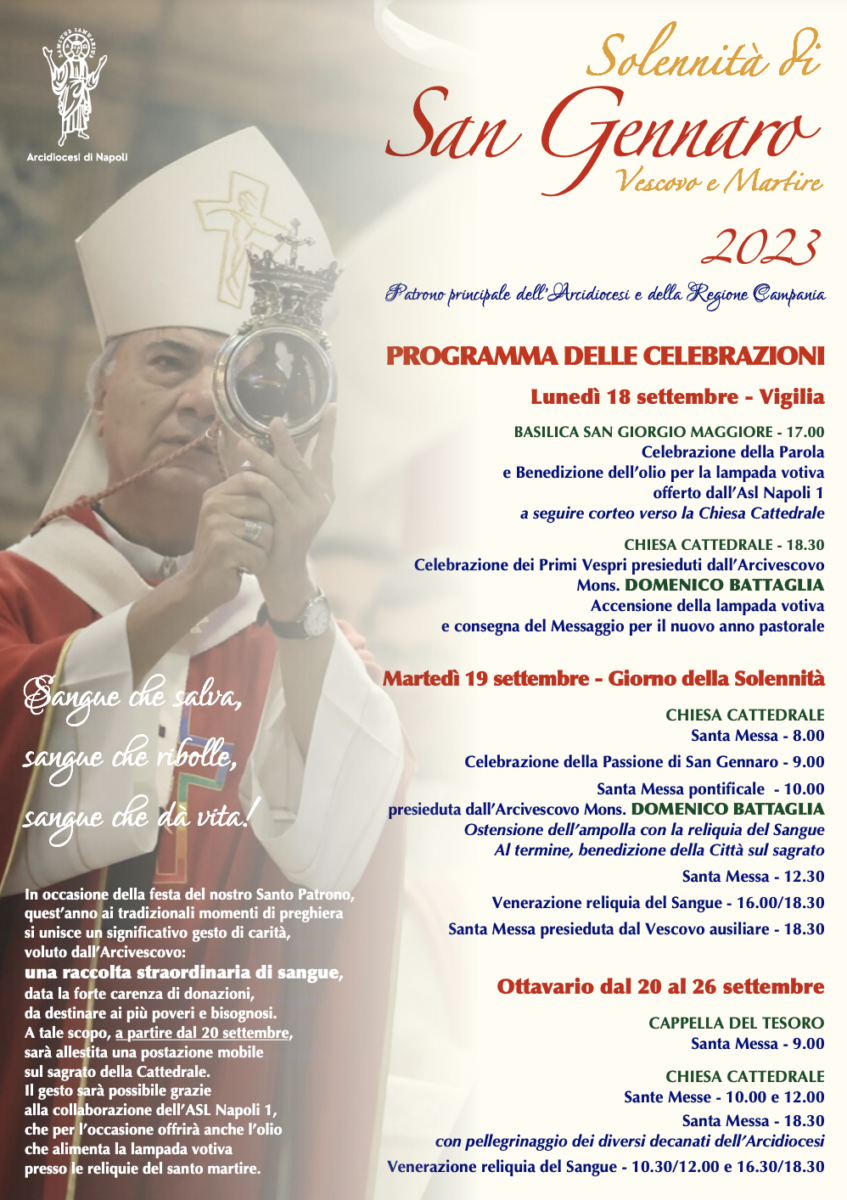 Image source:
Giancarlo De Luca Photography @jinkodel70