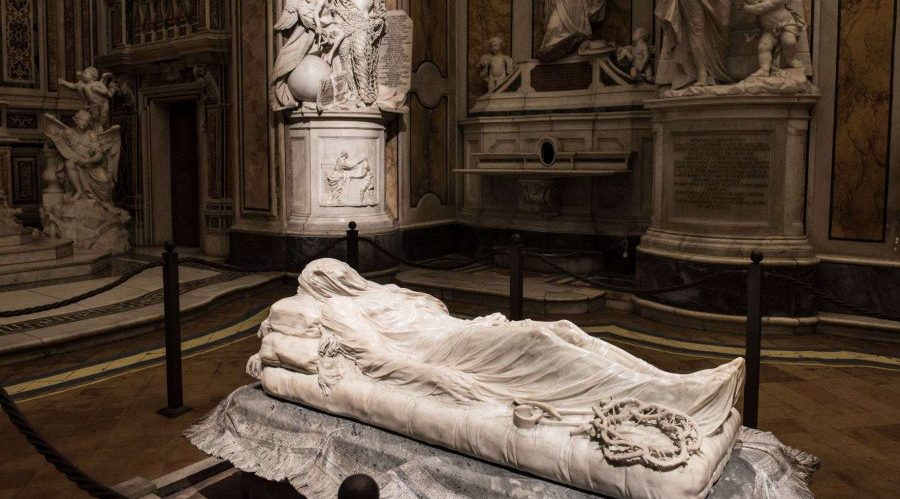 Finally the beautiful Sansevero Chapel reopens in Naples: here are the new times and the rules to follow!
Friday 12 June 2020 reopens in Naples the Sansevero Chapel, the beautiful museum that is located in the historic center and hosts, among other wonders, the Veiled Christ.
The reopening coincides with the 30 years since the opening carried out after the complex restoration work on the Baroque temple and will naturally follow all the rules due to the Coronavirus emergency.
In fact, inevitably there will be new ways to visit, but also timetable changes.
The new rules for visiting the Sansevero Chapel
First of all, the maximum capacity must be 35 visitors, in the complex of the 3 rooms of the structure. It can be accessed only after having completed the booking online and last minute on-site reservations will be accepted only if the conditions of capacity and previous reservations allow it. Instead, for groups of at least 10 people only online booking is allowed.
Obviously you have to wear the mask, the interpersonal distance at least 1 meter and will come body temperature detected. Those who have a temperature of at least 37,5 ° cannot access. There will also be a special signage to follow the routes and to know how to behave near the works, while to consult the books gloves are required in the bookshop.
The audio guides will be sanitized after each use and will be present dispenser with disinfectant gel.
The Museo Cappella Sansevero
Inside the museum, as mentioned, the most famous work is important is certainly the Veiled Christ. It is a statue made by Giuseppe Sanmartino in 1753 and commissioned by Raimondo di Sangro. Its wonderful peculiarity is in the veil carved entirely in marble, like the rest of the statue, so thin as to be impossible to make.
You can also admire the beautiful ones statues of modesty and deception and the famous ones anatomical machines, two human bodies completely stripped and in which the entire circulatory system is observed in detail.
Information on the Sansevero Chapel
When: reopens June 12, 2020
Where: via Francesco De Sanctis, 19/21
Timetables:
Wednesday - Sunday: 10.00-19.00
Closed on Mondays and Tuesdays
Last admission 30 min. before closing
Prezzi:
Ordinary ticket: € 8,00
Artecard: € 6,00
FAI members: € 6,00
Children aged 10 to 25: € 5,00
Children up to 9 years: free
Schools: € 3,00 (rate valid only on weekdays)
Audio guide: € 3,50
Contacts: Official site | 081 5518470 | info@museosansevero.it