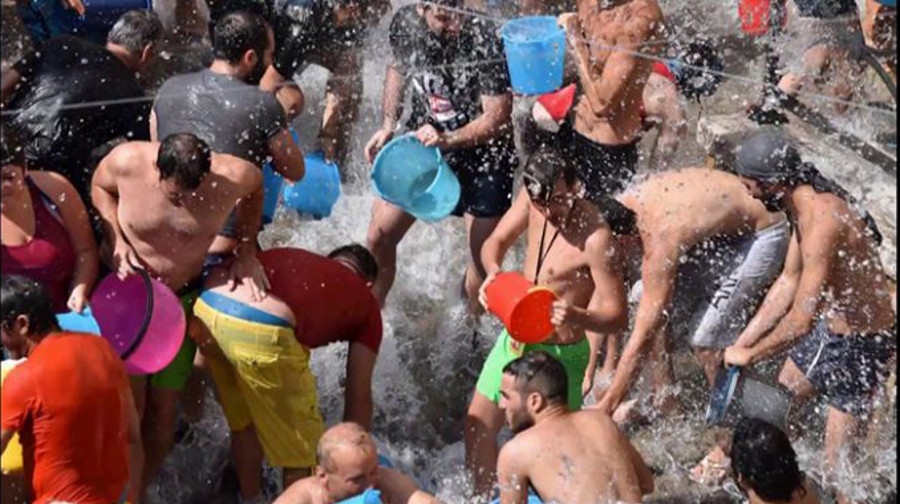 The water festival 'A Chiena 2019 di Campagna is a great opportunity to escape the summer heat and have fun with friends and not
The water festival 'A Chiena 2019 of Campagna it is one of the most interesting manifestations in the summer above all because it is the water festival, an essential liquid for the life of living beings, but which, due to the summer heat, becomes even more necessary. This is a simple event but at the same time fun because for a short period of time even adults can become children again and have fun throwing buckets of water.
For the uninitiated, 'A Chiena is a partial deviation of the river Terza by means of an artificial canal that brings the waters to Piazza Melchiorre Guerriero during the summer period. We talk about a real folkloristic event whose origin is lost over the centuries. There are some sources that lead her to the beginning of the 1600 when the plague raged going to clean up the center from dangerous contaminated residues while others make it go back to the need to clean the streets from the excrement of the pack animals what happened also in Rome and Turin . Finally it seems that it is mentioned among the seven labors of Hercules that diverted the course of the river Alpheus to clean the stables of King Augia.
'TO Keeps 2019 it represents an excellent opportunity to discover, through the various guided tours, a beautiful town. The 13 event started in July and the 17 will end in August, covering Saturday and Sunday except for 16 August which falls on a Friday.
About 'A Chiena 2019
Where: Campaign;
When: from 13 July 2019 to 17 August 2019;
Hours: Saturday 12: 00 - 13: 00; Sunday 12: 00 - 13: 00 and 15: 00 - 16: 00;
Prices: free admission;
For more information: Facebook page | Website | Information: + 39 3338911710 - + 39 3923675708 | email: info @ cittadicampagna.it
Program
July 13 2019
15: 00 - 16: 00 walk
July 14 2019
12: 00 - 13: 00 walk
15: 00 - 16: Bucket 00
July 20 2019
15: 00 - 16: 00 walk
July 21 2019
12: 00 - 13: 00 walk
15: 00 - 16: Bucket 00
July 27 2019
12: 00 - 13: 00 walk
July 28 2019
12: 00 - 13: 00 walk
15: 00 - 16: Bucket 00
August 03 2019
12: 00 - 13: 00 walk
August 04 2019
12: 00 - 13: 00 walk
15: 00 - 16: Bucket 00
August 10 2019
12: 00 - 13: 00 walk
August 11 2019
12: 00 - 13: 00 walk
15: 00 - 16: Bucket 00
August 16 2019
00: 00 - 01: 00 'A Midnight Clare
August 17 2019
00: 00 - 01: 00 'A Midnight Clare
credit img TerrediCampania