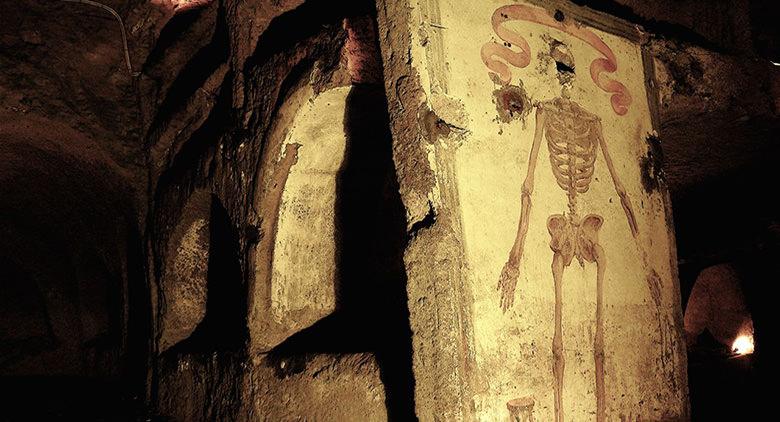 The catacombs of San Gaudioso alla Sanità
Le Catacombs of San Gaudioso I'm a real one necropolis located under the Basilica of Santa Maria della Sanità, and represent the second most important early Christian cemetery in the city after the Catacombs of San Gennaro.
These catacombs are named after Gaudioso the African, bishop of Abitine (Tunisia) who came to Naples by pure chance. Following the invasion of the Vandals he did not want to convert to Arianism, so King Genserico boarded it on a ship without sails or oars along with other Christian exiles. When he died, between the 451 and 453 AD, the place of his burial became a cult and from that area began to expand the paleochristian hypogeum cemetery.
Besides the remains of the saint, the catacombs also welcome Paleochristian and seventeenth century elements, frescoes and mosaics of the V-VI century and some tombs reserved for nobles, dating back to the seventeenth century. XVI century a fresco of the Madonna up to then covered by the mud was found here: it is the Madonna of Health (V - VI century), the oldest representation of Mary in Campania.
Information on the catacombs of San Gaudioso in Naples
Opening time
From Monday to Sunday and holidays from 10.00 to 13.00 (last entry 13 hours: 00)
Closed the 25 December
price tickets
Full 9,00 €
Under 18 5,00 €
Students / Over 65 / Law Enforcement 6,00 €
Under 6 Free
Unlike Skilled Free and Accompanying 6,00 €
Groups (min 20 participants) from 6,00 €
Schools from 4,00 €
The admission ticket for the Catacombs of San Gennaro can also be used to visit the Catacombs of San Gaudioso within 12 months.
Address
The entrance is from the Basilica of Santa Maria della Sanità, in Piazza Sanità 14.
How to reach us
By bus
From National Museum: 168, 178, C63, R4 lines. Get off at the Basilica Incoronata - Catacombe San Gennaro stop
By car
Exit of the Naples Capodimonte ring road.
Turn right into via Capodimonte. The Basilica is on the right after 200 meters.
There is free parking.
By subway
Line Museum Station 1, take one of the bus lines: 168, 178, C63, R4. Get off at the Basilica Incoronata - Catacombe San Gennaro stop
Cavour station 2 line, arrive at the National Museum on foot and take one of the bus lines: 168, 178, C63, R4. Get off at the Basilica Incoronata - Catacombe San Gennaro stop
Contacts
Cell: +081 744 37 14 XNUMX.
Email: prenotazioni@catacombedinapoli.it
Official site of the Catacombs of San Gaudioso
The Catacombs of San Gaudioso in Naples
The Catacombs of San Gaudioso are a real necropolis located under the Basilica of Santa Maria della Sanità
Address:
Piazza Sanità, 14
City:
NAPLES
Region:
Campania
Country:
Italy
Phone:
0817443714
E-mail:
prenotazioni@catacombedinapoli.it
Coordinates:
40.8596008,14.2489142
Hours for visitors(updated to 17 July 2018):
Monday

:-

Tuesday

:-

Wednesday

:-

Thursday

:-

Friday

:-

Saturday

:-

Sunday

:-
Official Website:
http://www.catacombedinapoli.it/it/luoghi/catacombe-di-san-gaudioso-napoli
Ticket price for visitors(updated to 17 July 2018):
Whole |

9€

Under 18 |

5€

Students / Over 65 / Law Enforcement |

6€

Under 6 and disabled |

0€

Accompanist |

6€

Groups (min. 20 participants) |

6€

Schools |

4€
Types of payment accepted:
cash,