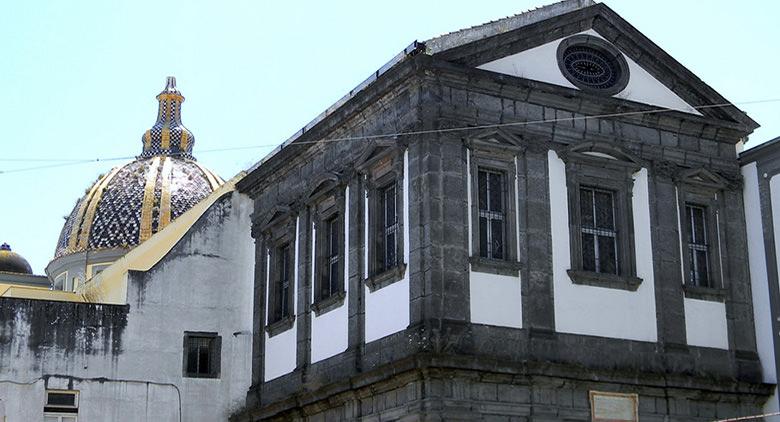 The Church
La Church of the Saints Marcellino and Festo it is part of a larger convent complex that includes two 7th century monasteries dedicated to the SS. Marcellino, Pietro, Festo and Desiderio.
In the 1808 the monastery was suppressed until it was hosted, some century later, some rooms of theUniversity of Naples Federico II. In the 1932 the Museum of Paleontology was established.
The rich interior decoration in polychrome marble was designed by Luigi Vanvitelli. The works housed there are Simonelli, Corenzio and Stanzione artists. The statues of the altar are by Vaccaro.
Information on the Church of the SS. Marcellino and Festo
Contacts: 0812537395 | 0812535706 | site of the portal in Campania
Entrance: the church, today deconsecrated, is accessible from the Cloister of San Marcellino and is mainly used for cultural events. The ticket price depends on the event
How to get:
Address: Largo S. Marcellino
Bus R2,202,460, E1, N1, N3 or N8: stop Umberto I - Denza - Cardocentet Medical Center (coming from both directions), go along Vico San Severino to the church (about 4 minutes on foot) | Metro Line L1: University station, take Corso Umberto I towards Piazza Garibaldi, turn left into Vico San Severino and proceed to the church (about 9 minutes on foot).
The Church of Saints Marcellino and Festo in Naples
The Church of SS. Marcellino e Festo is part of a larger convent complex that includes two XNUMXth century monasteries dedicated to SS. Marcellinus, Peter, Festus and Desiderius.
Address:
Largo S. Marcellino
City:
NAPLES
Region:
Campania
Country:
Italy
Phone:
0812537395 | 0812535706
Coordinates:
40.8470015,14.258658
Operating hours: times not available or variable