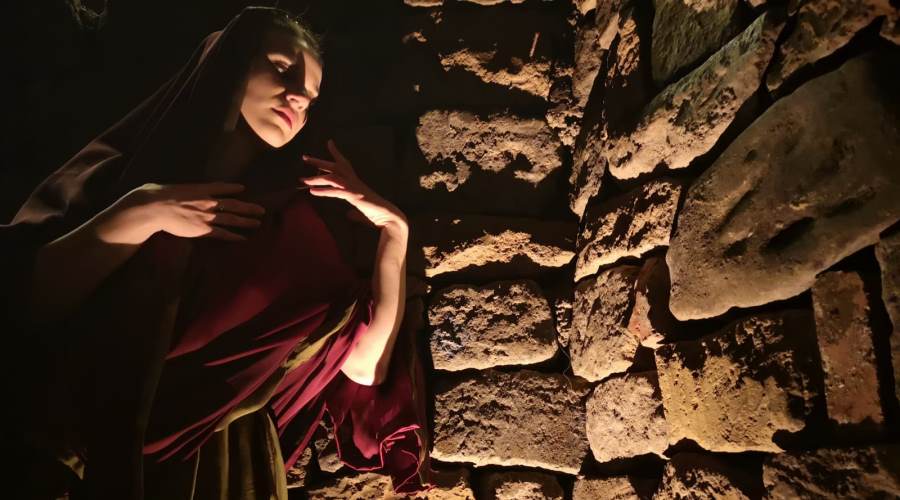 In December the NarteA association takes its guests through the curious history of the Church of Santa Maria della Pietrasanta in Naples, to discover its foundation stone.
"Tufo, in the Heart of Pietrasanta" and the guided tour which will take place on 14 December from hours 20:00 in Church of Santa Maria della Pietrasanta by thecultural association NarteA in the context of Night of Art.
The tuff, the root of Naples
Naples is built on tuff and tuff: the basilica church of Santa Maria della Pietrasanta is no exception. The narrators and actors of NarteA will tell the story accompanying the visitors in a long and exciting journey enriched by different theatrical performances.
The legend of the Devil
According to legend, the foundation of the Church was "ordered" by the Madonna in order to defeat the Devil that in that period it was manifested in the historical center in form of pig.
Mary appeared to Bishop Pomponio in a dream revealing that he would soon find a blue cloth: there he would have to build a church in his name. Under the blue cloth, the Holy Stone around which the church was erected.
The toast at the end of the visit
To toast the history of Naples, at the end of the journey, the company Lisandro Winery will organize one tasting of fine local wines.
Information on Tufo, in the Heart of Pietrasanta
Where: Church of Santa Maria Maggiore in Pietrasanta, Piazzetta Pietrasanta, 17 - 18 (Naples)
When: 14 December 2019
Price: 13 Euro
Timetable: from 20: 00