Le Naples schools are gearing up very well to encourage vaccination of children aged 5 to 11 and already a great one success registered in the Piscicelli school after the Epiphany.
Indeed, in this institution they are well 250 children who have already been booked immediately. The inoculations have started and there is great satisfaction. In addition, the children, although they may have been a little frightened at first, were immediately distracted by games and fun.
Many other vaccination hubs in schools: the list
I am also in Naples other schools that have decided to become a vaccination center for children aged 5 to 11 and currently more and more institutions have joined to prepare the areas of the facility for administrations.
Here are the schools that are vaccination hubs:
Cortese State Middle School;
Salvatore Di Giacomo State Middle School;
State Comprehensive Institute 33rd Risorgimento;
Bracco Comprehensive Institute;
Cimarosa-Della Valle State Comprehensive Institute;
State Comprehensive Institute 47th "Sarria-Monti";
State Comprehensive Institute 91 ° Minniti;
54th Scherillo Didactic Circle;
State Comprehensive Institute 28 Giovanni XXIII - Aliotta;
"Luigi Vanvitelli" State Elementary School;
Comprehensive Institute "Aristide Gabelli";
Giovanni Falcone Comprehensive Institute;
Comprehensive Institute of Root-Sanzio-Ammaturo;
Comprehensive Institute 31st Circolo Borsellino;
55th De Vito Piscicelli Didactic Circle;
Comprehensive Russian-Solimena Institute;
Comprehensive Institute Gneo Nevio;
Aosta Schools - Scura;
Paolo Borsellino School;
Gianturco primary school;
Nicolini School - Di Giacomo;
Miraglia School;
Sogliano School;
Scialoja Institute;
Vittorino da Feltre Institute;
Taddei D'Acquisto Institute;
Carafa School;
Salveminì School;
JF Kennedy School;
Aganoor-Marconi School;
Ferdinando Russo school
How to book
Parents who want to have their children vaccinated in one of these schools must consult the school website or contact the head teacher to find out how to book.
At this point they can book by choosing the day and time for the vaccination, remembering to bring a identity document and health insurance card.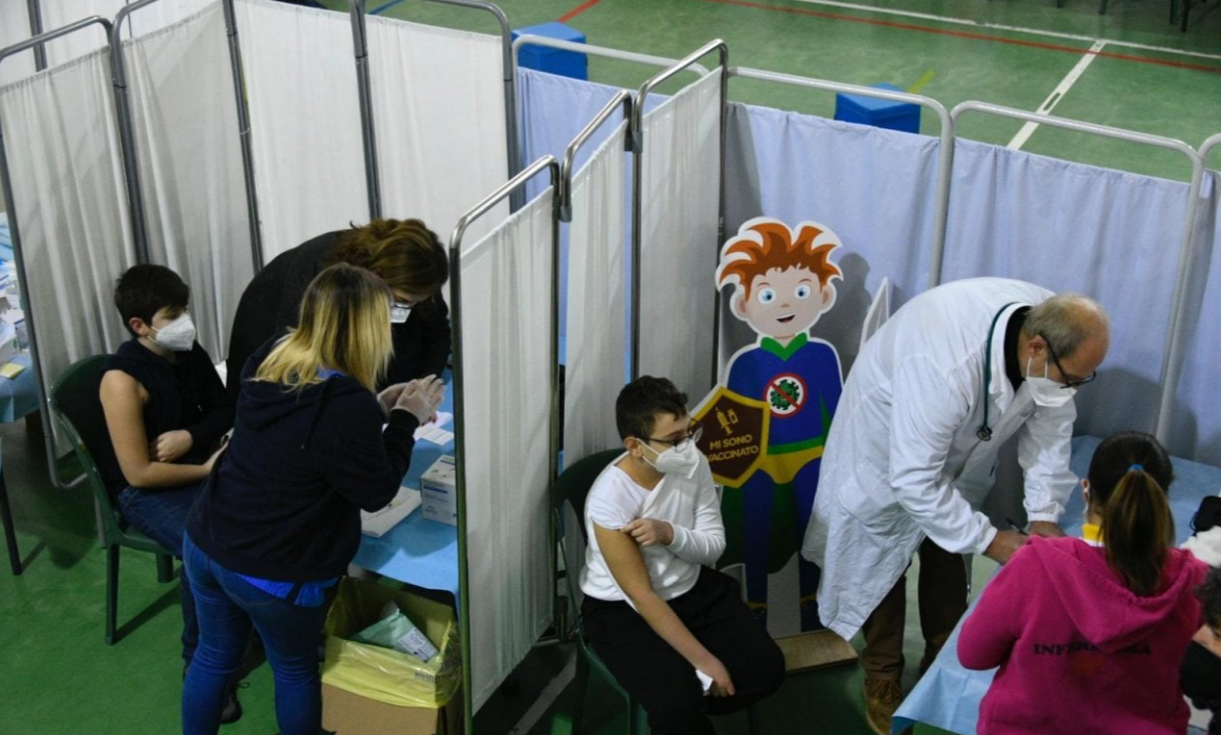 An important step against Covid-19
The increasing number of schools that are taking action to vaccinate children is certainly one very important step forward in the fight against the spread of Covid-19 infections. In fact, slowly there percentage of vaccinated children increases and we went from 5% in December to 17% of this mid-January.
more, even the little ones are made aware of the importance of vaccination to protect themselves and others. We remind you that there are thousands of infections in schools and currently there are over 20 thousand students and school staff, so taking more and more action to increase the number of vaccinated people is essential.
Photo source: La Repubblica
Are you looking for something in particular?