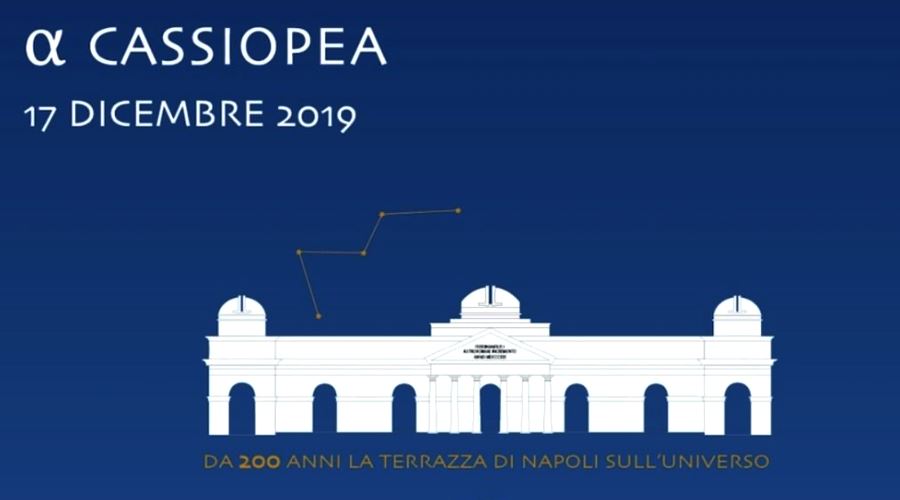 In December, the Capodimonte Observatory Museum celebrates the 200 years from the observation of "α Cassiopea" with a free evening full of events.
Il December 17 2019 the Museum of the Astronomical Observatory of Capodimonte opens its doors for one extraordinary guided tour, the delivery of an important one recognition, a classical music concert, un toast special and aobservation of the night sky.
All pants free events open to the public to celebrate the history of the Observatory.
The rediscovery of Carlo Brioschi's tools
The 17 December 1819 the Director of the Specola of Naples observed for the first time in the Neapolitan sky the star 𝜶 Cassiopeia. For a few years the original instruments used for that observation have been recovered and restored. Today they are exhibited in the Astronomical Instruments Museum and will be shown to guests during the evening.
A special toast
On the occasion of the event the Ocone winery will present a special bottle of Aglianico DOCG, in a limited edition of 300 bottles, dedicated to the Observatory.
Program of the evening "α Cassiopeia"
17 hours: 00
Visit of the MuSA-Museum of Astronomical Instruments, of the Meridian Circle, of the Ancient Library and of the historic domes
19 hours: 30
Brindisi in Capodimonte
20 hours: 00
Delivery of the Vincenzo Ferraro Medal
20 hours: 30
Scientific conversation by Juan Manuel Alcalà entitled: In search of other worlds
21 hours: 00
Concert by the Scarlatti orchestra for all conducted by Gaetano Russo and Bruno Persico with music by Scarlatti, Chevalier de St George, Jenkins, Mendelssohn, Grieg, Telemann, Persico, Brasiello
22 hours: 00
eeventi Observations to the sky telescopes of Naples with the astronomers of Capodimonte and the Neapolitan Astrofili Union.
Information on α Cassiopea
Where: Capodaimonte Observatory Museum, Salita Moiariello 16, Naples
When: 17 December 2019
Price: Free Event
Timetable: from 17: 00