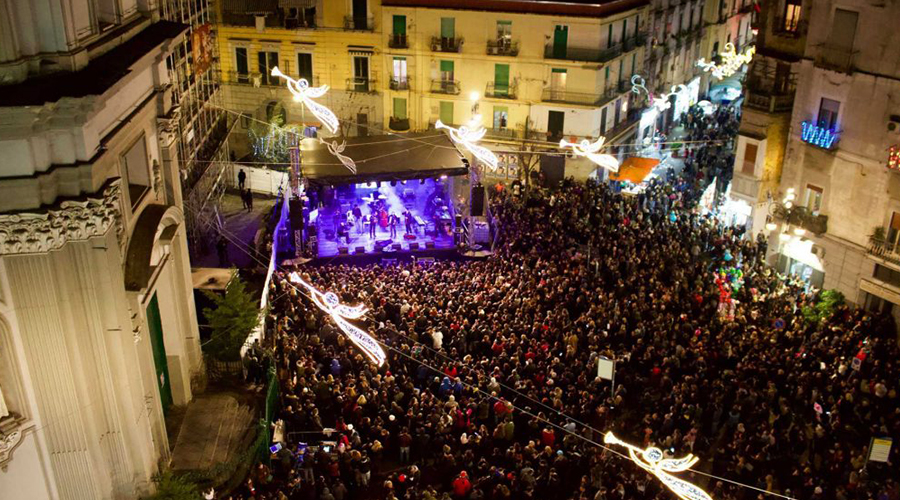 In the Rione Sanità in Naples a great appointment with the 2020 White Night: guided tours, musical shows and guaranteed fun are scheduled!
Sunday 5 January 2020 in the Rione Sanità of Naples, the last appointment of the review will take place "Voglia E Turnà" with the highly anticipated White Night, to close these Christmas holidays with a flourish.
The event made possible by the Fondazione di Comunità San Gennaro and the Third Municipality of Naples will offer guests the opportunity to spend an evening dedicated to divertissement and music thanks to the many musical shows that are foreseen in the program, but not only will also be possible guided tours to discover the beauties of the neighborhood.
The musical program
On the stage of the Rione Sanità of Naples will perform:
Ciccio Merolla
Marco Zurzolo
Greg Rega
Fabiana Martone
Sabbath
Aurelio Fierro jr
PeppOh & BabeBand
Luciano Caldore FB
SUD58 (directly from Made in Sud)
Francesco Boccia
#Plug
#Baloo
Lava 'and Sound
Marika Cecere
Saint
#DT1
J-Queen
Alessia Moio
Romeo Barbaro
Umberto Del Prete
PakyG
Prior
B'N'Beat
PJ Gionson
The Love Handles
Sunamm to Per
The ZERO
Vittorio Neves
V Monster
Guided tours and special openings planned
In addition to the numerous guests who will perform on the Rione Sanità stage, there are also scheduled events special guided tours at very special prices:
Special opening to visit "The Veiled Son" by Jago
Where: at the Church of San Severo outside the walls in Piazzetta San Severo in Capodimonte, 81.
Hours: Entrance from 18:00 to 22:00.
Prices: Reduced admission € 4. Free for residents.
Augusteo del Serino Aqueduct
Where: Via Arena Sanità 5.
Timetable: Guided visits in the hours 18:00, 19:00, 20:00
Prices: Membership fee of € 5
Info and reservations: Whatsapp 340/70 31 630.
Hypogeum of the Togati
Where: Via Santa Maria Antesaecula 129
Hours: Two visiting shifts: at 18:00 and 20:00.
Duration: The visit will last approximately 1 hour
Prices: membership fee is € 5.
Info and reservations: Organization: Celanapoli Association - 347/559 72 31
Chapel of the Relics and Church of San Vincenzo de 'Paoli
Where: Vincentian Monumental Complex
Prices: Contribution of 3 € - Visit to the Exhibition on Leonardo da Vinci, contribution of 6 €.
Hours: From 18 to 20,30
Info: Organization: Association Throws The Net
Church of S. Maria della Misericordia ai Vergini
Where: Via Vergini 1
Hours: 18:00: historical-artistic and architectural visit to the complex of S. Maria della Misericordia ai Vergini.
Duration of the visit 60 minutes.

To follow, at 19:00 - 20:00 - Opening of the musical laboratory for the little ones led by Maestro Michele Montefusco.
La reservation is mandatory until all available seats are available.

Price: An association fee is foreseen
Info and reservations: info@smmave.it.
Information White Night 2020 Rione Sanità
When: Sunday 5 January 2020
Where: Rione Sanità, Naples
Timetable: from 19: 00
Price: free White Night admission