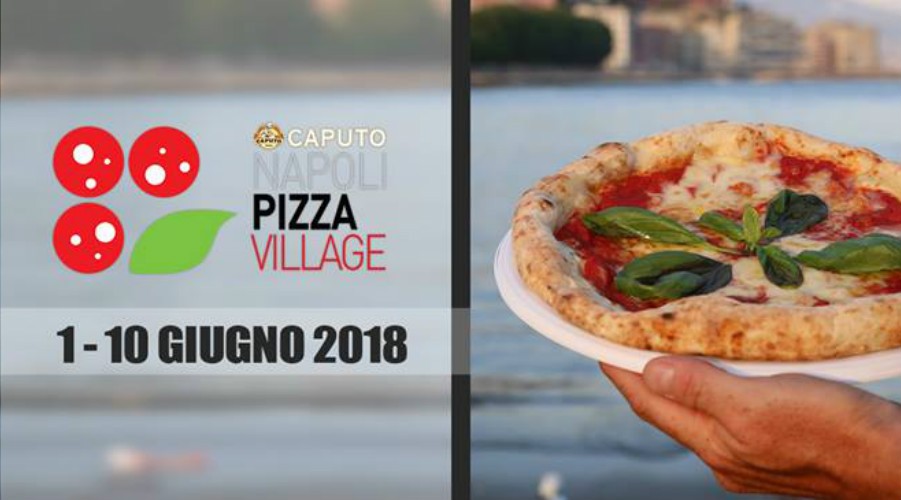 Pizzas, free concerts, trophies and events for the Naples Pizza Village 2018 on Lungomare Caracciolo!
From 1 to 10 June 2018 it will be held on the beautiful Lungomare Caracciolo of Naples the VIII edition of the Naples Pizza Village. The Lungomare will host the largest outdoor pizzeria in the world, with the participation of 50 historical premises Neapolitans who will offer a special tasting menu for the occasion. Moreover, every evening there will be free concerts, like that of Lo Stato Sociale.
The event is now an expected and annual event that this year has an added value having become theart of the Neapolitan pizza maker an intangible asset of the UNESCO World Heritage.
At the same time the Pizzaiuolo Championship with the assignment of the Caputo Trophy that will designate the best pizza chef among 600 participants, shows, concerts, educational workshops and many other initiatives.
There will also be many free concerts, like every year, with artists like The Social State, Noemi, Gue Pequeno e Fabrizio Moro. In addition, Thursday 7 June, simultaneously with the concert / tribute "Pino è" dedicated to Pino Daniele at the Stadio San Paolo, at Naples Pizza Village I'll be there direct video on the big screens and above all, the live radio and live commentary by RTL 102.5 that will broadcast live both from the stadium and from the Naples Pizza Village.
Concert program
Friday June 1
Fabrizio Moro
Saturday 2 June
Last
Sunday June 3
Noemi
Monday 4 June
Dear Jack and Bianca Atzei
Tuesday 5 June
Mario Biondi + Nesli
Wednesday 6 June
Thursday 7 June
T rebutted Pino Daniele. Direct on maxischemi and through RTL 102.5 del concert / tribute to the San Paolo Stadium
Friday 8 June
Annalisa
Saturday 9 June
Gue Pequeno
Sunday June 10
Admission is free.
At the 24 cash desks, located at the Rotonda Diaz, at the cost of 12 €, we can buy the complete menu that includes:
Pizza (margherita or marinara). Each pizzeria is free to prepare its own specialty, in addition.
Drink (water, Coca Cola or beer)
Sweet (staple or ice cream)
Coffee (espresso or grandfather's coffee) or alternatively an amount of candy for children.
World Pizzaiuolo Championship
It will take place at the Pizza Stadium and will be divided into 9 sections by 4 6 to June:
Neapolitan pizza stg Caputo Trophy
Classic pizza
Pizza in baking tin
Pizza by the meter / shovel
Fried pizza
"Season" pizza
Gluten-free pizza
Junior pizza
Acrobatic competitions, wider Pizza, Speed
Freestyle / Free style single
Acrobatic teams
Online ticket
Do not forget that thanks to the "Pizza on line / Skip the line", it will be possible to purchase the event's coupon menu online, avoiding long waiting times at the ticket offices.
The participating pizzerias
Pizzerias - Click to open the list
1. Sofia woman
2. Gigino and Sons
3. PalaPizza
4. 'O Sarracin
5 Cool
6. From Gennaro to Bagnoli
7. Vincenzo Capuano
8. Marigliano
9. Sorbillo
10. Mozzarella and Basil
11. Michele Condurro
12. Mario alla Loggetta
13. Naples 1820
14. Pizzeria del Popolo
15. The Daughters of Iorio (oven and fried)
16. Lucignolo Bella Pizza
17. Fiorenzano (fried pizza only)
18. Palazzo Petrucci
19. Angillotti
20. Aunt Esterina Sorbillo (fried pizza only)
21. Bellini
22. Perna (oven and fried)
23. Ciccio's Corner
24. Porzio (oven and fried)
25. Nana
26. Pellone
27. Napul'è
28. Concettina ai Tre Santi
29. New Italy
30. Totò Flavor
31. The Decumani
32. Vesi
33. Olive
34. ferment
35. Ferrillo
36. 33 Pizzeria
37. From Cyrus
38. Mascalzoni Latini
39 Vesuvio
40. Pizza and 'coccos'
41. The deflated
42. Don Peppe Attilio
43. Albachiara Pummarò
44. Brothers Zombino
45. Il Guappo Amoriello (gluten-free)
How to reach us
By car
From the Tangenziale you can exit at Fuorigrotta and continue towards the center-Mergellina, arriving at Piazza Sannazaro. Then, continue on via Sannazaro and via Caracciolo.
From the Via Marina side, take the Galleria della Vittoria and get to Piazza Vittoria.
From the Corso Vittorio Emanuele side, get to Piazza Amedeo and proceed on Via Martucci.
By public transportation - Metro and Funicular
The funicular of Chiaia arrives at the station of Piazza Amedeo-Parco Margherita and from there you can walk on the Lungomare,
The metro line 2 also arrives at Piazza Amedeo or at the Mergellina stop.
Parking
The nearest car parks are at Viale Dohrn, near the Villa Comunale, Viale Gramsci and via Giordano Bruno.
The nearest car parks to Piazza Vittoria are the Riviera di Chiaia and the Garage Morelli, while those closest to Via Martucci are on the homonymous street or the Riviera di Chiaia.
Information on the Naples Pizza Village 2018
Whenor: from 1 to 10 June 2018
Where: Lungomare Caracciolo
Prezzi: admission and free concerts, the menu costs 12 euro
Timetables: from the 18.00 24.00