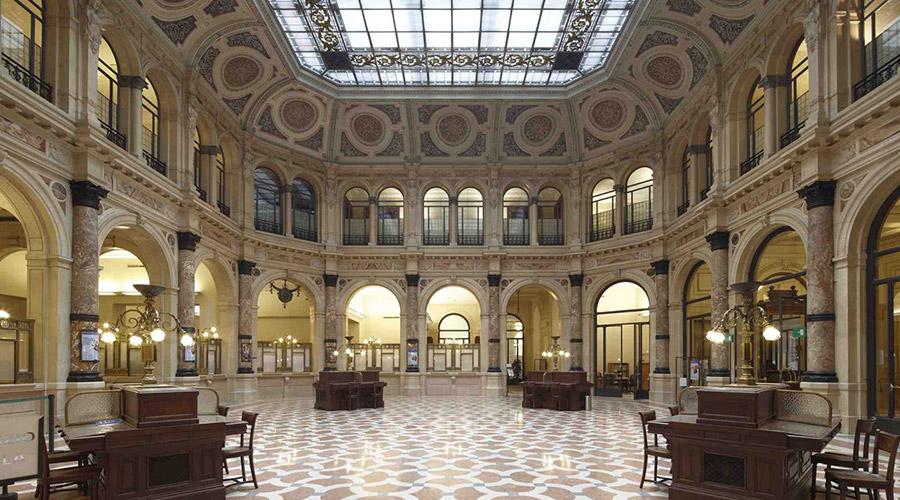 Il Palazzo
The beautiful Palazzo Zevallos Stigliano, which stands on Via Toledo in the city center, takes its name from its first owner, Giovanni Zevallos. Over the centuries the Palace will undergo several changes of ownership and related renovations, until the acquisition by the Banca Commerciale Italiana.
Many works exhibited in this place, such as those of Vincenzo Gemito e Gaspar van Wittel, those of the painters of School of Posillipo and most of the artists of the Nineteenth-century Neapolitan school, like Giacinto Gigante, Anton Smink Pitloo, Nicola Palizzi, Domenico Morelli and many others.
Edc is in this building that you can admire "The last Caravaggio", or the last painting of the famous Michelangelo Merisi, called il Caravaggio, Entitled "Martyrdom of St. Ursula" made in the 1610, just a few weeks before his death.
The rooms
Le sale that you can visit, they are:
the Hall of Cupids and the seventeenth century;
the Hall of still and eighteenth century nature;
the Bird Room;
the Pompeian Room;
the Hall of Fidelity;
the Sala di Luca Giordano and Francesco De Mura;
the environment of the grand staircase.
Information on the Palazzo Zevallos Stigliano
Opening time:
Tuesday to Friday from 10: 00 to 18: 00 (last entry 17 hours: 30)
Saturday and Sunday from 10: 00 to 20: 00 (last entry 19 hours: 30)
Monday closed
Price tickets:
Joint ticket valid for visiting temporary exhibitions and permanent collections.
Whole 5,00 €
Reduced 3,00 €
Young people aged 18 to 25; over 65; groups of at least 15 people; group leaders (starting from the second) and school groups (starting from the third). Members: FAI, Italia Nostra, Touring Club, Amici dei Musei, ACI "Show your card", ARCI, Emergency, Qui! Cultura and coupon holders, Artecard, Ferrovie dello Stato. Holders of a ticket for a Galleria d'Italia issued less than a year earlier.
Free entry
Youth under 18 years; schools; disabled and accompanying; a guide for groups of minimum 15 people; Intesa Sanpaolo customers; employees of the Intesa Sanpaolo Group; pensioners of the Intesa Sanpaolo Group if they are AGOAL or ALI members; journalists; tourist guides and interpreters accompanying tourist guides; teachers of schools of all levels; museum officials; ICOM members; lecturers and students of archeology, architecture, art, cultural heritage and education sciences; personal MIBACT; members of the Order of Architects; holders of the Annual Tunnel of Italy
Free 15 August admission
Free entry first Sunday of the month
Skip the line! Buy tickets online.
Contacts:
How to get:
Address: Via Toledo, 185 - 80132 Naples
From Piazza Garibaldi: L1 metro line, Toledo station (about 3 minutes on foot)
Palazzo Zevallos Stigliano in Naples
The splendid Palazzo Zevallos Stigliano, which stands on Via Toledo in the city center, takes its name from its first owner, Giovanni Zevallos.
Address:
Via Toledo, 185
City:
Naples
Region:
Campania
Country:
Italy
Phone:
800454229
E-mail:
info@palazzozevallos.com
Coordinates:
40.839682,14.2487693
Hours for visitors (updated to 17 July 2018):
Tuesday

: -

Wednesday

: -

Thursday

: -

Friday

: -

Saturday

: -

Sunday

: -
Official Website:
http://www.gallerieditalia.com/it/napoli/
Ticket price for visitors (updated to 17 July 2018):
Whole |

5€

Reduced |

3€

Young people aged 18 to 25; Intesa Sanpaolo customers; over 65; groups of at least 15 people, first Sunday of the month, August 15th |

0€
Types of payment accepted:
cash,