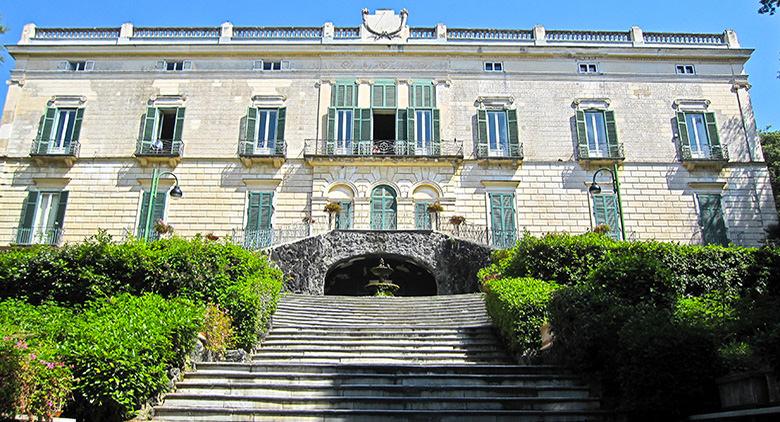 Villa Floridiana, in the heart of Vomero
La Floridiana, Located on the Vomero hill surrounded by a beautiful park that takes its name, of Floridiana, is a neoclassical villa that owes its name to Lucia Migliaccio, Duchess of Floridia and wife of Ferdinand IV of Bourbon. In the 1815 this villa, which was the estate of Prince Giuseppe Caracciolo of Torella, was donated by King Ferdinando to his wife, who decided to call her Floridiana.
For the occasion the paths and paths of the surrounding park in romantic style was arranged and enriched by the director of the Botanical Garden of Naples Friedrich Dehnhardt who brought 150 species of plants like pines, plane trees, holm oaks, camellia palms.
In the 1919, after being inherited by the royal couple's children, the villa was bought by the State that rendered it display place of the collection of ceramics received as a gift from Maria Spinelli di Scalea, an inheritance from the uncle Placido di Sangro, duke of Martina, who gave the name to the Museum of Ceramics Duca di Martina which is still open to the public.
The Park of the Floridiana Villa
The park surrounding the Villa Floridiana is a fascinating set of winding paths and groves that climb and descend to culminate in a beautiful lookout that is located, right in the back of the villa, on a terrace overlooking the sea, from which you can admire a splendid view of the Gulf of Naples.
Inside the park you can also come across pillars and columns, statues and architectural elements that represent fake Roman and Ionian ruins, and even in a small amphitheater called the Verzura theater.
Information on the Floridiana Villa and the Duca di Martina Museum
Opening time
8,30-19,00 hours (from 1 April to 31 October)
8,30-17,15 hours (from November 1 to March 31)
Schedules may vary
Price tickets: free admission
Address
1 entrance: via Domenico Cimarosa 77 - 80127 Naples; 2 entrance: via Aniello Falcone 171 - 80127 Naples
How to reach us
In funicular
Funicular of Chiaia, Cimarosa stop.
Central Funicular, Piazza Fuga stop.
By subway
Subway 1 Line, Vanvitelli stop.
Contacts
Tel: 0815788418
Email: sspsae-na.martina@beniculturali.it
Floridiana Villa in Naples
The Villa Floridiana, located on the Vomero hill surrounded by a splendid park
Address:
Via Domenicao Cimarosa, 77
City:
NAPLES
Region:
Campania
Country:
Italy
Coordinates:
40.8394614,14.230032100000017
Operating hours: times not available or variable
Admission for visitors is free.