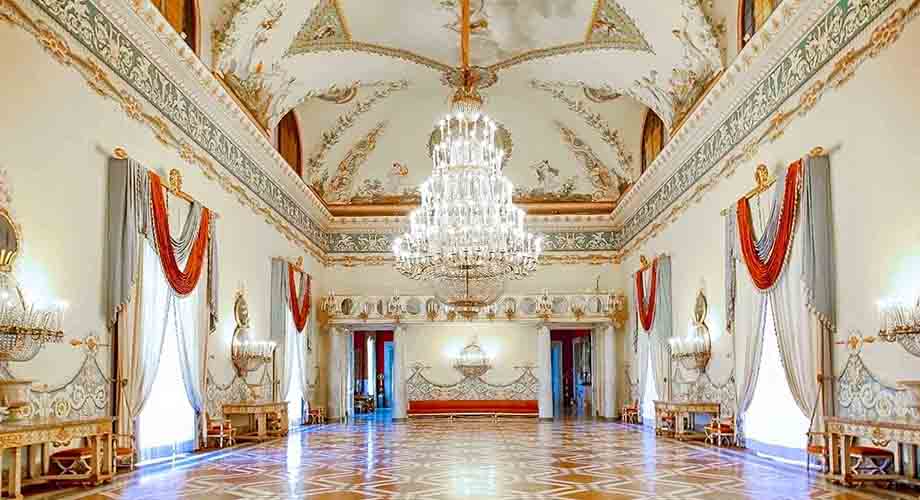 The palace
The majestic Royal Palace of Capodimonte, framed by beautiful gardens and initially conceived as a place in which to welcome the Farnese collection, became historical residence of the Bourbons of Naples, and later of the Bonaparte, the Murat and the Savoy. It is part of the area where there is the Wood of Capodimonte.
The Museum
The Capodimonte Museum, located in the Royal Palace, houses artwork already from the 1758. The exhibition is divided as follows:
Galleria Farnese, with works by Tiziano, Vasari, Masaccio, Sanzio and Botticelli, among others;
Borgia Collection, subdivided into Egyptian, Etruscan and Roman, Greek-Roman, Roman, Far Eastern art, Arabic antiquities, ethno-anthropological artefacts of Northern Europe, Central America and the Sacred Museum;
Historic apartment, with two rooms dedicated to the Porcelain Gallery;
Gallery of Arts in Naples, with works by Neapolitan artists;
Private nineteenth century, with seven rooms including paintings of the nineteenth and twentieth century;
Contemporary art, which welcomes the famous Vesuvius by Andy Warhol.
Information on the Capodimonte Museum
Opening time:
From the 8.30 to the 19.30 accessible the first floor
From the 9.30 to the 17.00 accessible the first second floor
Closed on Wednesdays, 1 January 1st and December 25
24 and 31 December opening hours are reduced 8: 30 - 14: 00 with last entry to 13: 00
Last entry allowed for 18: 30 (for open premises)
No reservations are made for the first Sunday of the month
Wood opening hours:
In the months of October, February and March: opening of 7,00 hours and closing of 18,00 hours
In November, December and January: opening of 7,00 hours and closing of 17,00 hours
In the months of April, May, June, July, August and September: opening of 7,00 hours and closing of 19,30 hours
Ticket price up to 9 December 2018 (duration of the White Paper exhibition):
whole 12 euro
reduced between 18 and 25 8 years euro
free under the 18 years
second floor ticket including exhibition on free Sundays and for 4 euro artecard holders
the price of the ticket and the timetables may vary according to the exposures in progress
For all the 2019 who will arrive to Capodimonte by taxi will receive a discount of 2 euro on the whole ticket of admission to the Museum
Contacts:
Map of the Capodimonte museum: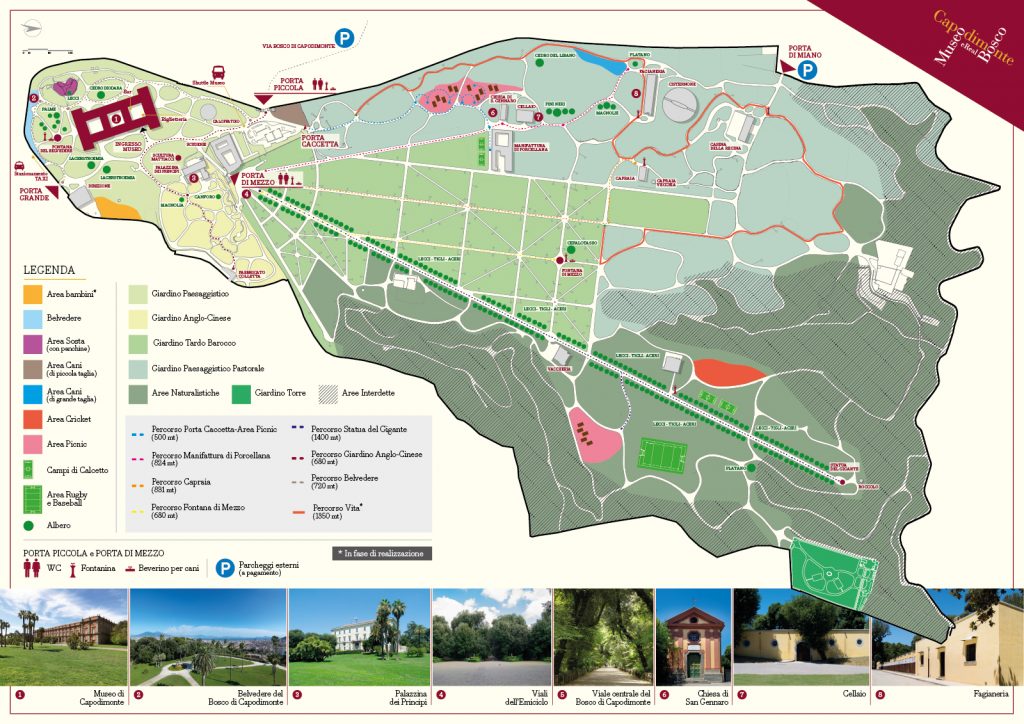 How to get:
Address: via Miano, 2 - 80131 Naples
From Piazza Garibaldi: L1 metro line, Dante station, then Bus Anm C63, stop "Museo Porta Grande"
From April 2016 is active one shuttle that takes you to the museum from the center, including admission ticket
The Capodimonte Museum in Naples
The majestic Reggia di Capodimonte, framed by splendid gardens and initially conceived as a place to house the Farnese collection, became the historical residence of the Bourbons of Naples, and later and later conceived initially as a place to house the Farnese collection, it became the historical residence of the Bourbons of Naples,
Address:
Via Miano, 2
City:
Napoli
Region:
Campania
Country:
Italy
Phone:
081 7499111
Email:
[email protected]
Coordinates:
40.867034,14.250583
Hours for visitors (updated to 2 August 2021):
Monday

: -

Tuesday

: -

Thursday

: -

Friday

: -

Saturday

: -

Sunday

: -
Official Website:
http://www.museocapodimonte.beniculturali.it/
Ticket price for visitors (updated to 2 August 2021):
museum + White Paper exhibition - whole |

€12

museum + exhibition White Paper - reduced between 18 and 24 years |

€8

second floor ticket including exhibition on free Sundays and for artecard holders |

€4

children under 18 |

€0
Types of payment accepted:
cash, credit card, debit card,
They might be interested in: