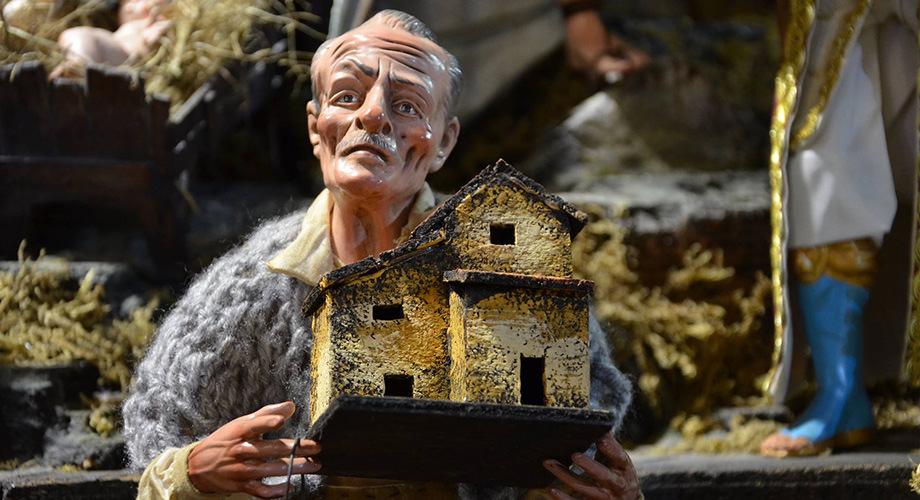 San Gregorio Armeno, the street of the cribs in Naples.
San Gregorio Armeno is one of the most famous streets of Naples and is famous for the presence of many cribs shops.
It connects the Decumano Inferiore with the Decumano Superiore, in fact it is one of the cornerstones of the Greco-Roman urban planning, and is also called by the people San Liguoro. With both denominations, in reality, we always refer to the same person because "Liguoro" is the term of the archaic Neapolitan with which it was called San Gregorio.
In the fifteenth century, the road was named Plaetia nostriana because the bishop San Nostriano had some spas for the poor.
The workshops of Cribs
There are many artisans who carry on the secular Neapolitan tradition of the realization of the cribs and that all the year they show their creations. However, during the Christmas period there is the greatest number of visitors from all over the world, tourists wishing to admire these masterpieces among which it is also possible to admire "unconventional" shepherds.
In fact, for many years, the custom of recreate famous personalities from television or cinema, as well as typical figures of Neapolitan art and culture (such as Totò, Pino Daniele, Eduardo and Troisi).
Places of interest
One of the most important places of interest, located halfway up the road, is the large one bell tower of San Gregorio Armeno which also acts as a link between the church and the monastery, both dedicated to the saint. A short distance from it, therefore, the church of San Gregorio Armeno whose cloister, with a separate entrance, is a little further on.
At the end of the road, towards the intersection with via San Biagio dei Librai, there is also the historic church of San Gennaro all'Olmo, managed by the Giambattista Vico Foundation. Opposite is what is called Domus Ianuaria, considered the birthplace of San Gennaro, as indicated by a plaque of the 1949.
How to reach us
By subway
Subway 2 line, Montesanto stop
In cumana
Montesanto stop
In funicular
Montesanto Funicular, Montesanto stop
By bus
151, 154, E1, E2
Events and latest news on San Gregorio Armeno
San Gregorio Armeno
Via San Gregorio Armeno is the street of the cribs of Naples.
Address:
Via San Gregorio Armeno
City:
Napoli
Region:
Campania
Country:
Italy
Coordinates:
40.8501373,14.2577801
Operating hours: open h24
Admission for visitors is free.
They might be interested in: