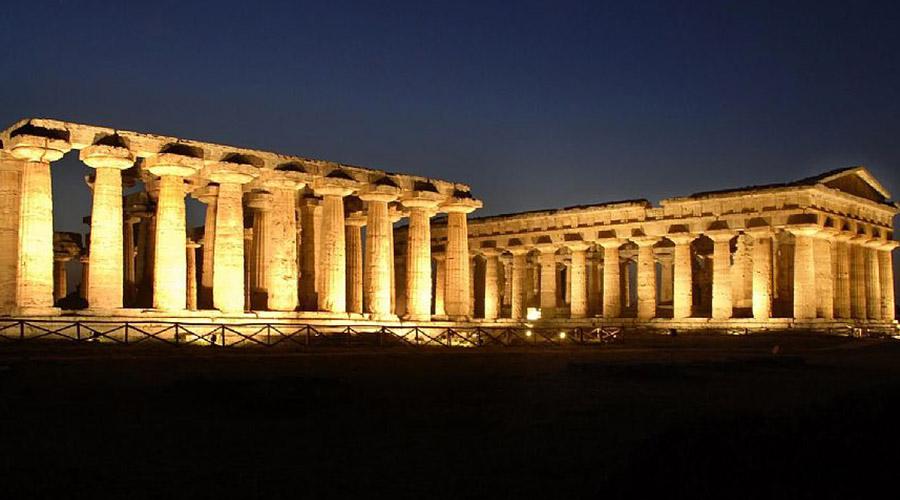 Astronomical guided tours of the archaeological park of Paestum: the stars above the temples.
Promoted by the Campania Region and with the support of Scabec, Società bell heritage, al Paestum archaeological park a cycle of is in progress extraordinary evening openings that will guide visitors through suggestive encounters under the stars and on the trail of myths and constellations. The event is within the scope of Campania by night.
Every week we face a different myth linked to the magical site of Salerno. During the visit it will be possible to point the telescope on the sky and with the astrolabe to identify the characters and the creatures of mythology in the eighty-eight modern constellations. The magic will be multiplied by a musical show curated by the Licei Musicali Polo of Campania.
I visit shifts they are four: the first round is in Italian at 19.30; the second in English at 20.30; the third still in Italian at 21.30; the last one in Italian at 22: 30.
The program of nightly guided tours
Musical performances in July
11 - 14 July 2019
Ensemble of Mandolins and guitars directed by Maestro Michele De Martino
18 - 21 July 2019
Ethno Popular Ensemble directed by Maestro Espedito De Marino
25 - 28 July 2019
Ensemble of Mandolins and guitars directed by Maestro Michele De Martino
August shows
1 - 4 August 2019
Ensemble of Early Music directed by Maestro Guido Pagliano
8 - 11 August 2019
Percussion Ensemble directed by Maestro Paolo Cimmino
16 - 18 August 2019
Ethno Popular Ensemble directed by Maestro Espedito De Marino
22 - 25 August 2019
Jazz Ensemble conducted by Maestro Giuseppe Esposito
30 August - 1 September 2019
Jazz Ensemble directed by Maestro Sandro Deidda
September shows
5 September - 8 September 2019
Percussion Ensemble directed by Maestro Paolo Cimmino
Information on the guided tours of Paestum of Campania by Night
Where: at the archaeological park of Paestum (Salerno)
When: from July to September, consult the program
Timetable: four shifts starting from 19,30 to 22,30
Prezzi:
admission free only on Thursday, in the context of #iovadoalmuseo
free: for the holders of the annual ticket Paestum Mia and for those who have adopted a block, as well as for children under 18 years.
5 euro: Friday, Saturday and Sunday; 2 euro: for visitors between 18 and 25 years
tickets can be purchased either at the Museum ticket office or at the archaeological area from 19,00 to 22,50