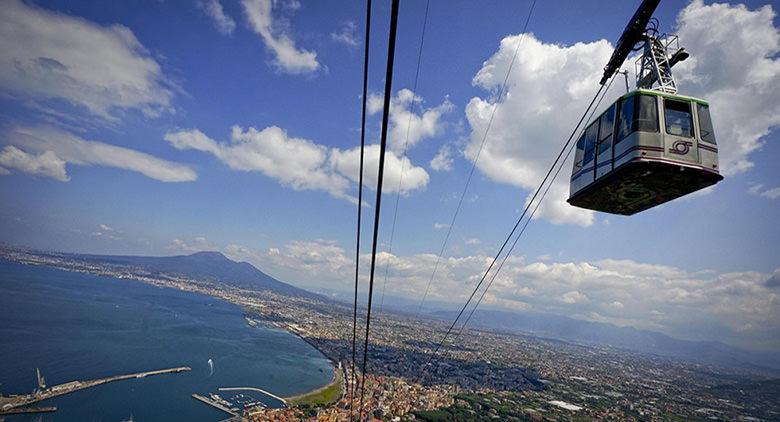 Cableway
Update: in compliance with anti-covid rules, the maximum number of transportable people is 8 at the same time. In addition, daily sanitization of the cabins is provided; then, at each stop of the cabins, the contact surfaces, handles, handrails, open and / or half-open windows are sanitized. A mask is mandatory and, in the stations, there are precise entry and exit routes to enforce the distance of one meter. Hand sanitizer dispensers provided.
For all updates and recent information, consult the official EAV website.
***
La Faito cableway it is a bifune plant to go and come and connects Mount Faito with the municipality of Castellammare di Stabia and is managed by the EAV, the Autonomous Body of Volturno.
It was opened for the first time in the 1952 and its function has always been predominantly of type tourist. Excellent from a strategic point of view as it is very close to the Naples-Sorrento line of the Circumvesuviana.
After closing the 1988, followed by a reopening in the 1990 and one new closure in the 2012, the Faito cableway has reopened to the public the 4 May 2016, after major maintenance and redevelopment work.
It employs 8 minutes to travel the route.
The cable car timetables
Timetable from Monday 21 September to Sunday 15 November 2020:
10:00 - 10:20 - 10:40 - 11:00 - 11:40 - 12:00 - 12:40 - 13:00 - 13:40 - 14:00 - 14:40 - 15:00 - 15: 20 - 15:40 - 16:00 - 16:20 - 16:40 - 17:00
The President declares that, if there is not much turnout, the departures will respect the times decided, if instead the rows will be long, the hours will be continued.
Prices
Single ride 5,50
Round trip 8,00
Round trip for residents 5,00
Round trip under 18 3,00
45,00 monthly pass
Bike transport 1,00
How to get to the Faito cableway
Address
The cable car is located near the Castellammare della Circumvesuviana stop.
Contact
Directions to arrive
By car: take the A3 motorway and take the Castellammare di Stabia exit. Continue on the SS 145 and take the exit towards Vico Equense. At this point, take Via Raffaele Bosco / SS269 and Via Faito in the direction of Via della Funivia.
On the train: get to the Garibaldi station in Naples and from there take the Sorrento-Naples line of the Circumvesuviana. Get off at the Castellammare stop and take the cable car.
Latest news on the Faito cableway
Rate this post
[Total:

13

Media:

3.7

]
The Faito cableway
The Faito cableway is a bifune system to go and come that connects Mount Faito with the town of Castellammare di Stabia and is managed by the EAV, the Autonomous Body of Volturno.
Address:
Near the Circumvesuviana stop at Castellammare
City:
Castellammare di Stabia
Region:
Campania
Country:
Italy
Coordinates:
40.695095,14.482588
Hours for visitors (updated to 17 September 2020):
Ticket price for visitors (updated to 17 September 2020):
Full round trip |

8€

Return resident |

5€

Single ride |

5.5€

Monthly subscription |

45€

Bicycle transport |

1€
Types of payment accepted:
cash,