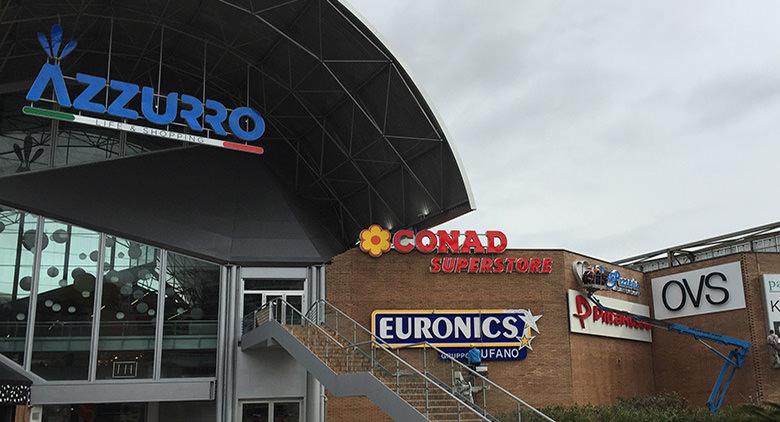 Dozens of shops, restaurants, play areas, bars and numerous services in the new Azzurro Shopping Center of Fuorigrotta in Naples!
Il Azzurro Shopping Center of Fuorigrotta officially opens the doors to the public 24 February 2016, anticipated by an inauguration ceremony the day before. Azzurro Life & Shopping, this is the full name of the structure, made possible by the President of Conad, Claudio Alibrandi, owner of the building, whose superstore occupies most of the ground floor.
Azzurro is located in via Marco Aurelio 189 (and via Cupa Nuova Cintia 41), at the exit of the Tangenziale Fuorigrotta and, inside, in the 3 floors, they are present 19 shops and the whole structure is part of a context that has been left to itself for a long time, replacing the old San Paolo Shopping Center, which was only used as a parking space for years.
Stores
The points of sale are located in an 9822mq space and will be opened every day of the week from 9.00 to 21.00.
In addition to the aforementioned Conad Superstore, there is the Parapharmacy (also Conad), Pittarosso, H&M, OVS, Lovable, Beauty Idea, Gigi Bags, AW Lab, GoVado, Lama Optic, Kasanova, Hairdressers Jean Claude Coiffeur, the World of Gege, 3 Store and Poste Italiane.
Euronics, which occupies well 1200mq, also allows for try smartphones and tablets, which are "free touch", to invite customers to test their functions.
Inside the Conad, in addition to the Parapharmacy, there are departments of fruit and vegetables, meats, gastronomy, bread, pizza, fish, sushi, frozen foods, wine shops, various kinds.
One is also present food court, an area both inside and outside with a wide range of food from Napoli del Cuore restaurant (completely inspired by Napoli Calcio), at the "I Love Puro" coffee shop, as well as yoghurts and ice cream parlors.
Services
There are many services of the Azzurro Shopping Center which you can use. First of all, the presence of the Wi-Fi, then direct internet connections, portable charging stations and smartphones, branches cash machine, digital printing machines and photo development and the copying service offered by Poste Italiane, designed especially for university students in the area.
even the parking is very large, with its 4 underground floors, naturally supplied with elevators.
For the redevelopment of Azzurro the environmental impact was taken into high consideration, with the installation of a photovoltaic system, LED lighting, refrigeration plants and high efficiency refrigerated counters.
Azzurro shopping center
In the Fuorigrotta district of Naples opened the Azzurro Shopping Center with dozens of shops, many services, bars, restaurants, playgrounds and parking.
Address:
via Marco Aurelio 189
City:
Naples
Region:
Campania
Country:
Italy
Phone:
+390817677563
Email:
[email protected]
Coordinates:
40.8363043,14.1892051
Hours for visitors (updated to 2 August 2021):
Monday

: -

Tuesday

: -

Wednesday

: -

Thursday

: -

Friday

: -

Saturday

: -

Sunday

: -
Official Website:
http://www.ccazzurro.it/
Admission for visitors is free.

Types of payment accepted:
cash, credit card, debit card,
They might be interested in: