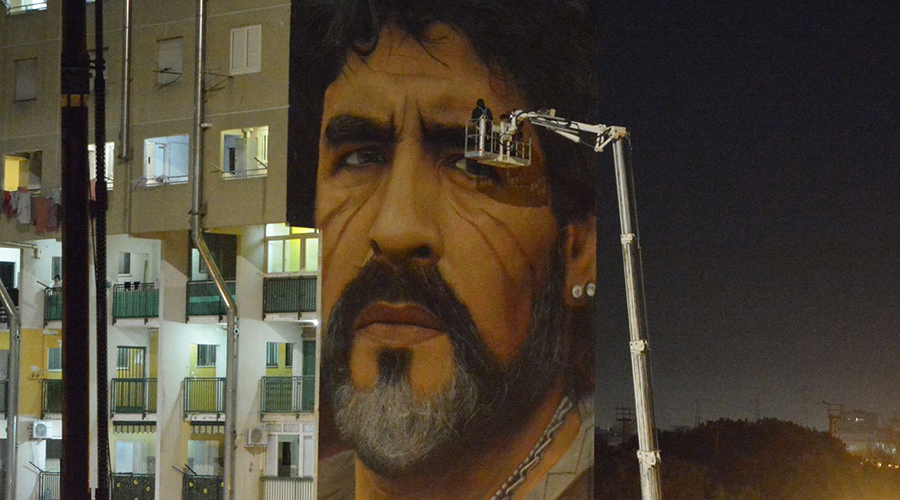 In the night Jorit restored the mural of Maradona to San Giovanni a Teduccio in Naples because it was ruined by bad weather. Here are the pictures.
Last night, that one between the 8 and the 9 November 2018, the street artist Jorit has restored the famous mural of Maradona located on the facade of a building in the San Giovanni a Teduccio district of Naples.
The mural, the largest dedicated to the Pibe de Oro, had been ruined by the weather, especially at the edges, then the Neapolitan artist has done a quick job night restoration to make it return to its former glory.
The work is located in Via Taverna del Ferro, where there is also that dedicated to Che Guevara made during the summer, and has also been a great curiosity for the message that Jorit wanted to hide in the pupil of the former 10 number of Naples.
Recall that Jorit has made many murals in our city, the last of which is dedicated to Ilaria Cucchi, the fighter sister of Stefano Cucchi, on the occasion of the sentence concerning the case of his brother. Furthermore, he has realized those of Massimo Troisi in San Giorgio a Cremano, of San Gennaro in Forcella and the portrait of the Roma girl.
Recall that from our site you can also download the wallpapers for smartphones, tablets, pc and tv of Maradona murals.
Photo gallery of the restoration
Photo by Enzo Morreale
[Votes: 0 Media Rating: 0 / 5]