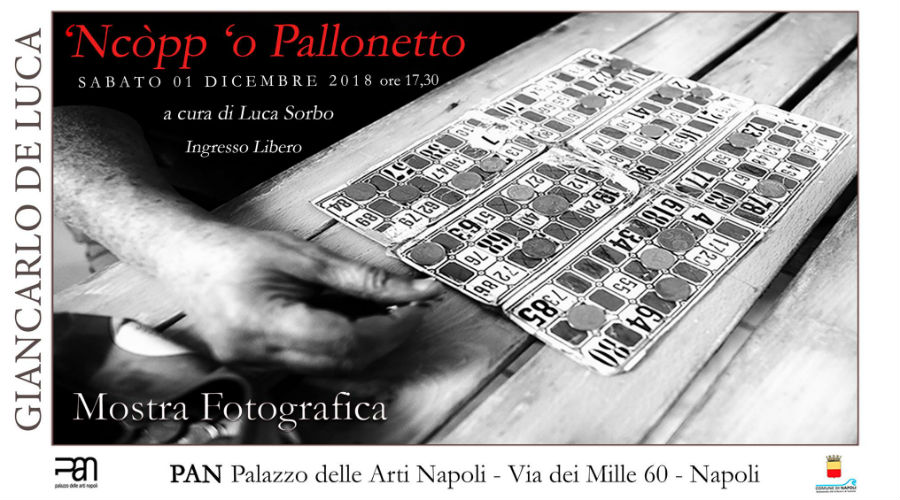 The photographer Giancarlo De Luca takes us to the discovery of the ancient village of Pallonetto in Naples with a photographic exhibition at the PAN.
From the 1 to the 9 December 2018 the PAN of Naples will host the exhibition "" Ncopp 'or Pallonetto "by the talented Neapolitan photographer Giancarlo De Luca, who wanted to tell the stories and faces of this village through an interesting photographic reportage.
In the exhibition we can admire well 80 photos taken during 2 years of activity in Pallonetto, a period in which Giancarlo dedicated himself with such passion to discover a difficult neighborhood of Naples, discovering angles and characteristic faces and details able to give, with their strength, the right redemption to the area. And just through his photos, Giancarlo wants to give back the right value to Pallonetto, showing it to us by one different perspective.
The village, in fact, deserves to be known, and rediscovered, above all for its ancient history, for the magnificent crafts that make it rare, due to its characteristics religious traditions and for habits of its inhabitants.
The photographer, in his two years of work, was accompanied by Ninarella, an elderly woman from Pallonetto who took him to discover places, people and secrets of the place, but also theintimacy of the houses and the famous "vasci" inside they are preserved affections, loves, stories and memories.
Il 6 December there will also be a meeting with Giancarlo De Luca in which the exhibition catalog will be presented.
The exhibition enjoys the patronage of the City of Naples, is curated by Luca Sorbo, and makes use of the collaboration of Celio Alfinito and Pasquale Liguori.
Information on the exhibition 'Ncopp' or Pallonetto
When: from 1 to 9 December 2018
Where: PAN-Palazzo delle Arti in Naples, via dei Mille 60
Timetables:
Sunday from 9.30 to 13.30,
Monday to Saturday from 9.30 to 19.30, only Monday 10 December from 9.30 to 17.00
the 6 December at 17.30 meeting with the author
Price: free
[Votes: 0 Media Rating: 0 / 5]