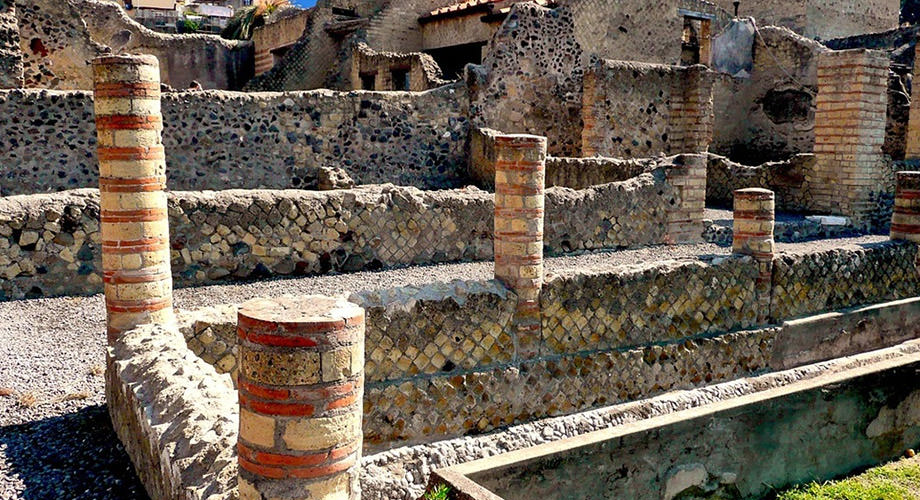 How to reach Ercolano and the site of Archaeological Excavations by car, train, Circumvesuviana, bus and plane.
Herculaneum, like Pompeii, is a municipality in the province of Naples and is famous mainly for the Archaeological Excavations, testimony of the ancient Roman city flourishing before theeruption of Vesuvius of 79 AD that buried it under ashes and lapilli.
Legend has it that it was founded by Hercules and the 1997 is World Heritage Site. The visit path includes private houses, villas of rich Romans, public, private and religious buildings and there are also i casts of people who lost their lives during the eruption so that today we can see their expressions and positions at the time of death.
Below, information on how to get to Ercolano by car, Circumvesuviana, bus, train and plane.
Who comes from the north, therefore also from Naples, must use thehighway A3 Naples-Salerno in the direction of Salerno and take the Ercolano exit, continuing along via del Corallo, via Pugliano and via Mare. Finally, follow the indications for the Archaeological Excavations.
Lo same route for those coming from the south.
The trains of the Circumvesuviana for Ercolano there are two and must be taken from the Piazza Garibaldi station in Naples. You can take the Naples-Sorrento line or Naples-Torre Annunziata-Poggiomarino line and go down, in both cases, to the Ercolano Scavi stop. The next stop is Herculaneum Golden Mile and allows you to visit the beautiful Vesuvian villas of the eighteenth century. Consult the timetables for Naples-Sorrento trains and timetables for the Naples-Torre Annunziata-Poggiomarino trains.
From April to October the fast tourist train Campania Express from Naples to Sorrento which stops at Ercolano and Pompeii.
From Piazza Garibaldi to Naples thethe only train heading towards Ercolano is the Napoli-Salerno of Trenitalia which stops at Portici-Ercolano. To continue from this stop, it is better to get on one of the following ANM buses:
5 line: Portici (Piazza San Pasquale) - Herculaneum (via Vesuvio)
176 line: Portici (piazza San Pasquale) - Herculaneum (via Cook)
177 line: Portici (piazza San Pasquale) - S. Sebastiano al V. (piazza Belvedere)
From Naples Capodichino Airport take theAlibus leading to Piazza Garibaldi, at the Central Station. From here follow the indications of the previous paragraph "Train". The alternative is a taxi.
They might be interested in: