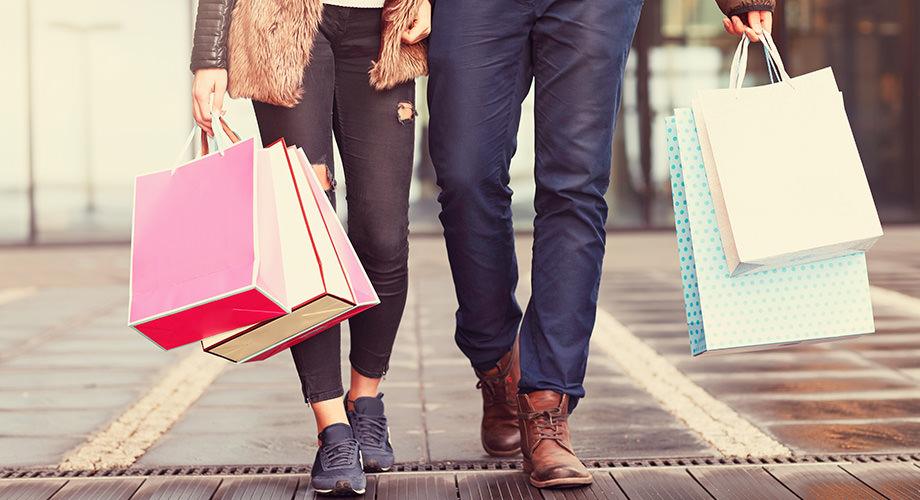 The streets of Naples where you can go shopping with high fashion boutiques and low cost shops and souvenirs.
Naples is a magnificent city to visit to discover its priceless artistic heritage, but it is also a place that offers endless possibilities for those who want to dedicate themselves to shopping.
From the most elegant districts to those in the historic center or more peripheral, the offer is of all kinds and suitable for all budgets. If you want to buy clothes and shoes of great names in international fashion or refined jewels, it is impossible not to walk through the streets of Chiaia and Vomero. If, on the other hand, you prefer low-cost shopping among them local boutiques, artisans and souvenir shops, streets like Via Toledo or Corso Umberto are a must.
Here is a guide to shopping in Naples with the streets not to be missed.
Via dei Mille and Via Filangieri
They are two of the most elegant streets in Naples that are located in the Chiaia district, one of the richest in the city, and in which there are big international brands. Those wishing to shop in high fashion boutiques selling clothes and shoes of important brands, can not help but take a walk through Via dei Mille and via Filangieri.
Among the most luxurious shops, there are Louis Vitton, Hogan e Prada, but there are also refined and important jewelers like Bulgari. A must for shopping lovers of a certain level.
Where is it: Via Calabritto, Via Poerio and Piazza dei Martiri - 80121 Naples
Via Chiaia
Via Chiaia connects Piazza del Plebiscito with Piazza dei Martiri and is another street full of elegant and chic shops. It is entirely pedestrian and is one of the steps to do absolutely if you want to devote to a type of refined shopping, along with Via dei Mille, via Filangieri and via Calabritto.
One of the most important stores is Tramontano, famous for the leather bags and handcrafted and luxurious leather. There are, however, also excellent ice cream parlors, bars and some street food place to fill the stomach between one purchase and another.
Where is it: Via Chiaia - 80121 Naples
Via Toledo
Via Toledo is one of the most popular streets for citizens and tourists, it is entirely pedestrianized and allows you to walk quietly to admire its many windows. There are shops for all tastes, from Disney Store to Foot Locker, from Swatch to Victoria Secret, passing by the many clothing stores at affordable prices such as H&M, Bershka and Alcott. In addition, there is no shortage of craft shops.
On Via Toledo there are also some famous bars such as Luise, two locations of the historic artisan chocolate shop Gay Odin and the Casa Infante ice-cream parlor, belonging to the Leopoldo group, known for its delicious taralli.
Where is it: Via Toledo - 80132 Naples
Umberto gallery
The Galleria Umberto is one historical shopping gallery of Naples with four entrances in the historic center: Via San Carlo near the theater of the same name, Via Santa Brigida, Via Toledo and Via Verdi.
It is very majestic and elegant and inside there are both shops and bars. Among the most famous boutiques there are various clubs of Barbarian, a historian and refined clothing store for men, while if you are looking for electronic products you can enter from Euronics.
Among the bars, do not miss the small "Mary" little town, famous for its delicious sfogliatelle.
Where is it: Via San Carlo, 10 - 80132 Naples | via Santa Brigida, 57 - 80132 | via Toledo, 256 - 80132 | Via Giuseppe Verdi, 9 - 80133 Naples
Via B.Croce, Via SB dei Librai and Via Mezzocannone
Via Benedetto Croce, Via San Biagio dei Librai and Via Mezzocannone, in the historic center, are perfect for the most characteristic shopping because they are full of shops selling souvenir for tourists. You can find objects and gadgets that reproduce typical characters like Pulcinella, the lucky horn or folkloristic musical instruments such as tammorra and scetavajasse.
There are also shops of handmade clothing, bookshops and places of typical gastronomic products such as the hand made pasta, Limoncello, sweets and mozzarella. One of the most famous is the branded one Strega which sells chocolate and nougat flavored with the famous liqueur.
Where is it: Via Benedetto Croce and Via Mezzoncanne - 80134 Naples | Via San Biagio dei Librai - 80138 Naples
Corso Umberto
The Corso Umberto is also known as Rettifilo and is a very long road, about one kilometer, which connects the Central Station of Piazza Garibaldi with Piazza Bovio, the headquarters of the Stock Exchange.
There are not just big commercial chains, like Adidas e Yamamay, but also many shops of local companies that sell clothing, accessories of various types and shoes and in which you can shop at prices not too high. In sales period it is in fact one of the most sought-after streets by the Neapolitans because the offers to fiondarsi are many and convenient.
Where is it: Corso Umberto - 80138 Naples
Via Duomo
Via Duomo is a very important cultural road, not only because the Duomo is located, but also because there are 7 museums to visit. And yet, it is also a street for shopping, especially if you are looking for wedding dresses. In fact, there are numerous shops that sell clothes and accessories for those who have to get married and you can find prices for all budgets. One of the most famous of this genre is "The Venus of Berenice"And the shoppers also move from the other neighborhoods to buy a suit in this place.
On Via Duomo there are also clothing boutiques of other types, shoe stores, household items, leather goods, printing houses, bookshops and numerous bars.
Where is it: Via Duomo - 80139 Naples
Via Scarlatti and Via Giordano
Via Alessandro Scarlatti and Via Luca Giordano are two of the main streets of Vomero, the hilly district of Naples, ideal for those who want to dedicate themselves to elegant shopping.
Via Luca Giordano is totally pedestrian and allows you to walk quietly among the shops of clothing, accessories and footwear, such as Carpisa, Spatarella and Intimissimi, but on the road is also the electronic megastore Trony, which also sells books and CDs.
On Via Scarlatti, however, there are big chains like Foot Locker, Coin and Cisalfa. Surely it is not cheap shops, but going into the cross-streets you can also go shopping at cheaper prices.
Where is it: Via Alessandro Scarlatti - 80129 and Via Luca Giordano - 80127 Naples
Maritime Station - Sea Gallery
The Maritime Station is located on the pier of the Port of Naples and it is a monumental building located near the sea, a few steps from Piazza Municipio. Inside there is the great Galleria del Mare, one shopping gallery with over 50 stores, an outlet and many bars and food outlets.
It is a shopping center for tourists arriving by boat in the city, but is open to anyone who wants to make purchases. Among the shops there are both large international brands, both companies of objects and local products. There is no shortage of places dedicated to wellness and restaurants.
Where is it: Maritime Station Molo Angioino - 80133 Naples
Via Epomeo
Via Epomeo is located in a more suburban neighborhood, in Soccavo, but in any case it is very well known in Naples. It's a long road full of shops of all kinds, always crowded with people looking for the best offer, especially during the sales period. Almost nothing is missing and there are shops of clothing, shoes, accessories, wedding dresses (also here, as in Via Duomo, the famous "Venus of Berenice"), electronics, home objects and toys. Among the latter, the most famous is certainly Vespoli.
Prices are affordable for everyone, but in some cases, as for the shops dedicated to the wedding, it happens to have to spend a little more.
Where is it: Via Epomeo - 80126 Naples
They might be interested in: