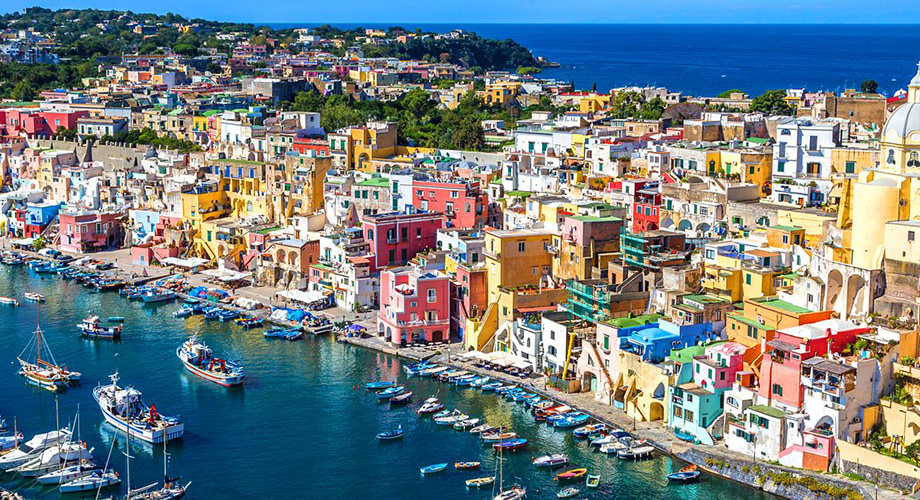 Information to get to the Island of Procida by sea using ferries or hydrofoils and to reach the ports of Naples and Pozzuoli.
THEProcida Island it is located in the Gulf of Naples and is a very popular summer destination for Neapolitans and tourists. The territory is also part of its territoryIsland Vivara, nature reserve with beautiful specimens of flora and fauna and in which the remains of an ancient Mycenaean village have also been found.
Despite being smaller than Capri and Ischia, it is a beautiful island with a wonderful Mediterranean landscape, magnificent beaches like that of the Postino (famous for the homonymous film with Troisi), and excellent cuisine with local dishes.
You can reach the island of Procida by sea both from the ports of Naples and from the Port of Pozzuoli.
From Naples
From Naples you can take Ferries and hydrofoils from Molo Beverello and Calata Porta di Massa.
Ferry boats depart from the Molo Beverello Medmar e Caremar for a trip of about 45 minutes.
From the Porta di Massa the hydrofoils of the SNAV and Caremar and the journey takes about 40 minutes.
From Pozzuoli
From the Port of Pozzuoli you can take the ferries of the companies Medmar, Caremar, Gestur and the journey lasts about 1 now.
Ferry and hydrofoil schedules to Procida
To reach the Molo Beverello and Calata Porta di Massa, exit at Corso Malta from the Tangenziale di Napoli and follow the directions for Porto.
Pozzuoliinstead, exit at Pozzuoli-Via Campana, continue on Via Alfonso Artiaco and Via G. Pergolesi towards Largo S. Paolo and arrive at the Port of Pozzuoli.
Train and subway to the Ports
from Central Station of Piazza Garibaldi, you can reach the Molo Beverello with the meter line 1, getting off at the Municipio stop and going on foot in front of the Maschio Angioino. Porta di Massainstead, it can be reached by going down to University stop always with the metro line 1, going via Depretis and turning into via Cristoforo Colombo.
To reach the Port of Pozzuoli, take the meter line 2, get off at the Pozzuoli stop and continue on foot following the signs.
I 151, 154, 650 and R2 buses they arrive at the Piazza Municipio stop in Naples, a few meters away from the Molo Beverello.
Le 151, 201, 202 and R2 lines they are those arriving at Porta di Massa.
From the airport, you can take theAlibus which arrives at Molo Beverello and Porta di Massa.
From the airport to the ports
Who arrives at 'Capodichino Airport can take theAlibus which leads directly to the Port of Naples, where the Molo Beverello is located, and to the port of Massa di Massa.
To get to the Port of Pozzuoli, reach the Central Station of Naples with the Alibus and take the meter line 2 to the Pozzuoli stop. From there, reach the port on foot following the signs.
They might be interested in: