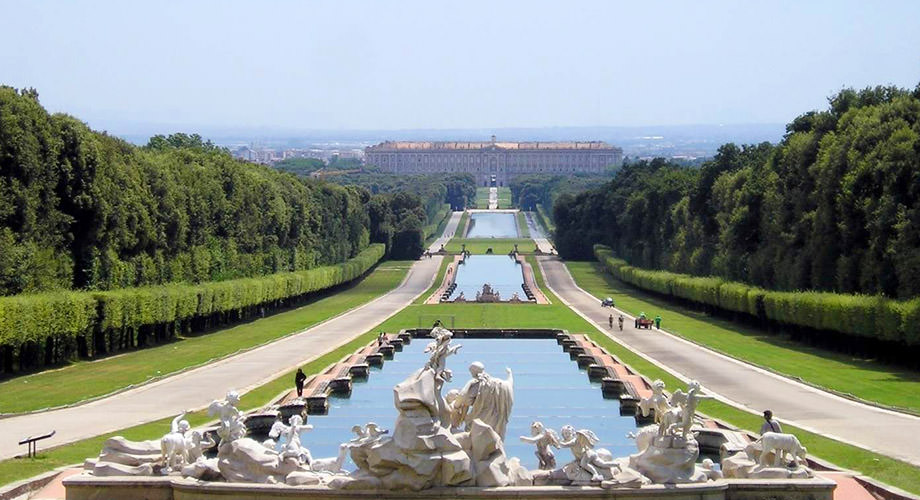 How to reach the Royal Palace of Caserta using the car, the train, the bus and the plane. Here is all the information.
La Palace of Caserta, Unesco World Heritage Site by the 1997, is a royal palace that was residence of the Bourbon family and currently a place of interest among the most visited in Campania and in Italy.
With his magnificent rooms, the stupendous royal staircase, the galleries and the permanent contemporary art exhibition "Terrae Motus" to which authors like Andy Warhol and Keith Haring, is a tourist destination not to be missed. The visit, moreover, can not be separated from a walk in the great Royal Park, long 3 kilometers and enriched by beautiful fountains populated by fish and numerous aquatic plants.
Here is how to reach the Royal Palace of Caserta by car, train, bus and plane.
From Naples, to get to the Royal Palace of Caserta, it is necessary to follow thehighway A30 and take theCaserta Sud-Marcianise exit. From here, continue towards the SS87 up to Viale Vittorio Veneto, which will lead to the entrance of the Royal Palace.
Who comes from Rome, always fromhighway A1 must take theCaserta Nord exit, continue on SS7, which will lead to Viale Vittorio Veneto up to the entrance of the Reggia.
You can park your car in the communal basement parking in Piazza Carlo III.
Il Trenitalia train to Caserta departs from the Central Station of Piazza Garibaldi in Naples and is a direct train between the two provinces. From Caserta Central Station, the Reggia is just a few minutes' walk away.
Alternatively, the EAV train Naples-Caserta-Piedimonte Caserta, from the Central Station in Piazza Garibaldi, stops at the Caserta Station. Consult the website for timetables.
In general, every year from Piazza Garibaldi, also the historical train Reggia Express that, once a month, on board the E-626 Centoporte electric locomotive, reaches the Royal Palace of Caserta. For information on train availability, consult the Trenitalia website.
From Piazza Garibaldi, near the Hotel Terminus, starts on C1RT bus of the CTP company which leads directly to Caserta via the motorway. You can get off at the Viale Carlo III stop and walk easily because the Reggia is just a few minutes away. More info on the route and timetables.
I bus EAV Napoli-Piedimonte Matese they are always taken from the Central Station, at Feltrinelli, and stop at the Piazzale della Stazione Centrale in Caserta. The Reggia is just a few minutes walk away. More information on the route and timetables.
From Capodichino Airport you can take one directly shuttle of the ATC company which reaches the Royal Palace of Caserta. Consult the site for timetable details.
Alternatively, from the airport you can reach the Central Station of Naples via theAlibus. From here you can take the trains or buses indicated in the previous paragraphs.
They might be interested in: