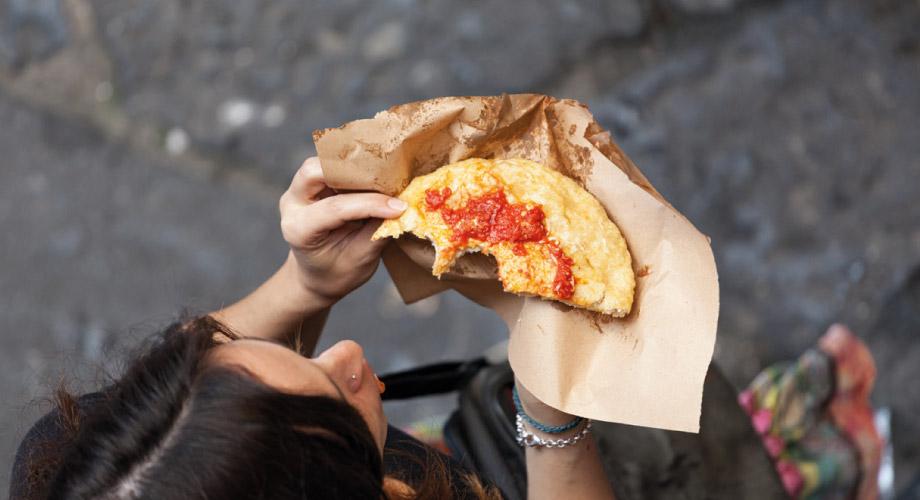 Neapolitan traditional cuisine, from the first to the dessert, passing through the pizza.
La Neapolitan cuisine it is the result of a balanced one mix of traditions Greek, Roman and other successive dominations that suffered the city, such as the French and Spanish. Born as a very poor cuisine, but flanked by a more refined and elaborate typical aristocracy, over the centuries it has evolved and changed, reworking the popular traditions with those of the nobles.
Today there are many dishes and recipes simple or complex that give a very specific identity to Neapolitan cuisine and that can be divided into first and second courses, side dishes, delicacies, desserts and drinks. A separate category deserves, however, pizza.
Here are the traditional dishes, with advice on the best places to eat them in Naples.
The first Neapolitan dishes
Unfailing, among the first of Neapolitan cuisine, is the pasta which is prepared in many different ways: from meat dishes to those with fish, through legumes. Among those most prepared in homes or restaurants there are certainly the Genoese and ragù. This is a meat sauce (mixed beef and pork) that must be cooked at least 6 or 7 hours on low heat and for this reason it is cooked especially in festivity. The Genoese has an uncertain origin, but the most reliable hypothesis dates back to the Aragonese period when chefs from Genoa prepared it in the port of Naples. It is a sauce made of onions (abundant), carrots and celery in which to cook for a few hours a piece of meat.
Naples is also a seaside city and the most famous first courses based on fish they are spaghetti with seafood and risotto alla pescatora with calamari, cuttlefish and octopus.
Among the baked preparations, the lasagna and cannelloni they definitely make it master. The Neapolitan lasagna includes meat sauce, meatballs, ricotta and fiordilatte or caciocavallo.
Do not forget the pasta and potatoes with provola, the one with legumes (beans in the first place) and the macaroni frittata.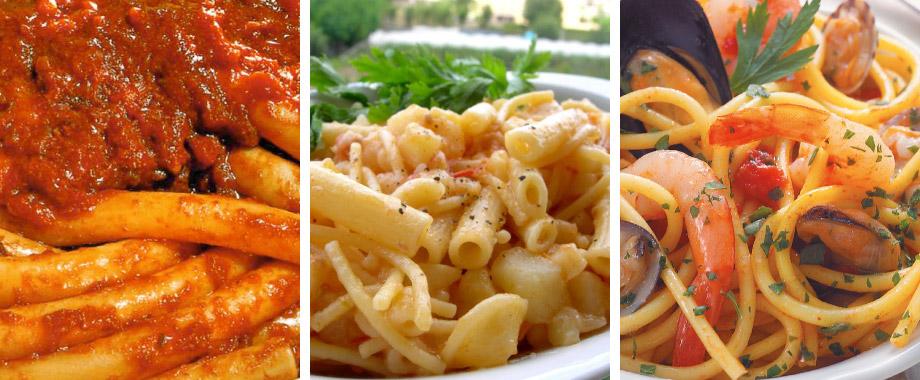 First of the tradition: ragù, genovese, spaghetti with seafood, risotto alla pescatora, pasta and legumes, spaghetti alla puttanesca, sartù, lasagna, cannelloni, spaghetti with tomato sauce, rice and cabbage, gnocchi alla sorrentina, omelette with macaroni.
RECOMMENDED LOCALS:
• Where to eat the ragu: Tandem, via Paladino 51 - 80134 | via Seat of Port 51 - 80138 | via SGMPignatelli - 80134 | via Mezzocannone 75 - 80134
• Where to eat pasta and potatoes: Nennella, Vico Lungo Teatro Nuovo, 103 / 104 / 105 - 80134 Naples
Even among the seconds of Neapolitan cuisine there are many land and sea dishes, but traditional recipes also include fried food, vegetables and the indispensable mozzarella. Surely you can not do without a good mussel of mussels, generally served in very generous quantities and accompanied by croutons, or even the octopus salad with warmed potatoes, a very fresh dish to be favored in summer.
A tasty dish is the frying of paranza, a mixed fried fish that takes its name from the homonymous type of boat used to fish them. These are mullet, sole, cod, anchovies, mazzoni and other varieties to eat with a good splash of lemon.
A separate quote deserves the cod, especially fried, a must for the Christmas period. But you can not come to Naples and do not eat there sausages with i friarielli, a sort of rigorously fried broccoli, or the aubergine parmigiana. Also the cat (gateaux) of potatoes and stuffed peppers (puparuoli mbuttunati) with various types of filling are typical dishes.
Finally, how not to mention the buffalo mozzarella and the aubergine parmigiana.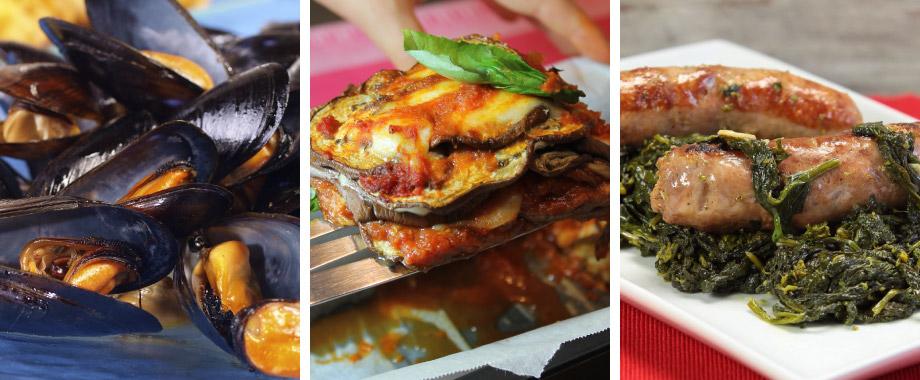 Seconds of tradition: peppered with mussels, salad octopus, Luciana-style octopus, mixed fish fry (paranza), eggplant parmigiana, sea bass in crazy water, fried cod, heated cod, sausages and broccoli, stuffed pepper, potato pancakes, meatloaf , married soup, mozzarella in a carriage.
RECOMMENDED LOCALS:
• Where to eat cod: Baccalaria, Piazzetta di Porto 4 - 80134 Naples
• Where to eat the mussels pepper: A daughter of Marenaro, Via Foria, 180 / 182, 80137 Naples
A separate mention deserve the contours, almost all based on vegetables and vegetables and prepared in various ways faithful to tradition. They are perfect for accompany one of the dishes mentioned among the latter, but often they are also tasted alone thanks to their exquisiteness.
Le zucchini alla scapecefor example, they are prepared by cutting them into small rondellines, frying them and seasoning them with fresh mint leaves and plenty of vinegar. The Eggplant A Mushroominstead, they are cut into small pieces, fried and finished to cook in a tomato sauce.
Among the side dishes to taste absolutely there are friarielli, which are only found in Campania, perfect to pair with sausages, but also excellent to eat alone. They are also used for stuffed pizza, as well as for the escarole, other vegetables that lend themselves to different preparations, but the most traditional is with olives, anchovies and pine nuts.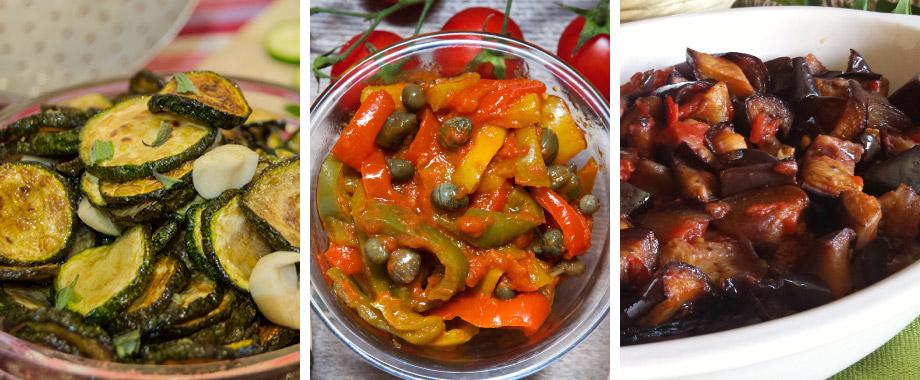 Contours of tradition: zucchini alla scapece, aubergine with mushrooms, broccoli, escarole, peppers in a pan, artichokes in a pan or roasted, mushrooms sautéed.
RECOMMENDED LOCALS:
• Where to eat the side dishes: the perfect places are the trattorias, like L'Osteria Pisano (Piazza Crocelle Mannesi, 1, 80138 Naples) and the Trattoria da Carmine (Via dei Tribunali, 330 - 80138 Naples)
The traditional Neapolitan desserts are famous all over the world and many of them are typical of some festivity, although many pastry shops often prepare them all year round. For some years now, alongside the secular ones, new sweets are also emerging, which are rightfully among the must-haves to be tasted absolutely.
Il Baba and sfogliatella they are certainly the sovereigns of the Neapolitan pastry. The first is the Neapolitan variant of an old Polish dessert and must be eaten strictly with rum. The sfogliatella exists in two variations, the pastry and the riccia, and the Neapolitan people are divided into curly types or shortcrust types and among those who prefer them with or without candied fruit. In the Easter period the houses and the streets smell like a pastiera, a dessert made with ricotta and boiled corn. In San Giuseppe there are the zeppole with custard and sour cherries, while at Christmas many sweets including struffoli.
There are two news confectionery more recent, i snowflakes of Poppella and the ministerial of Scaturchio. This was born in the 20 years of the 900 with a secret recipe, but is based on dark chocolate, ricotta and liqueur cream. The snowflakes, however, were born in the 2000 years and have driven the city crazy. Again, this is a secret recipe, but it is a soft brioche with a cream of ricotta and cream.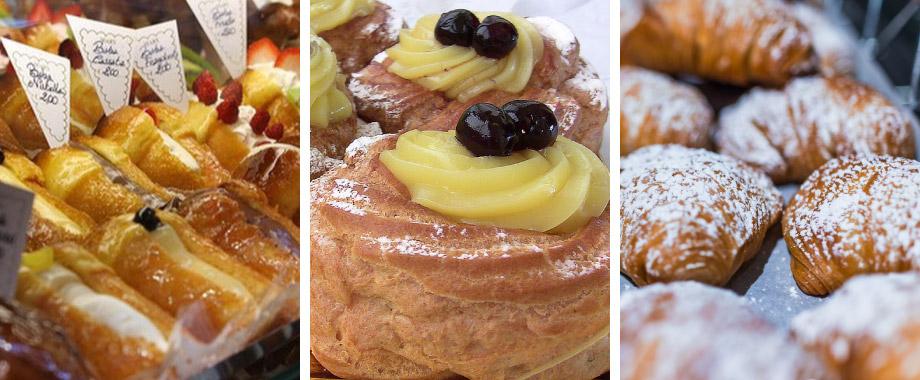 Traditional sweets: Sfogliatella, Babà, Pastiera, Zeppole di San Giuseppe, caprese, Struffoli, Graffe, Migliaccio, chiacchiere and sanguinaccio, rococò, mustacciuoli, soup, ministerial, lemon delight, snowflakes.
RECOMMENDED LOCALS:
• Where to eat the sfogliatella: Attanasio, Vico Ferrovia, 1-4 - 80142 Naples
• Where to eat the babà: Patisserie Capparelli, Via dei Tribunali 325 - 80138 Naples
Walking through the streets of Naples you are constantly surrounded by the smell of the street food, mostly fried, which characterizes part of the Neapolitan cuisine. These are products to eat in the famous cuoppi, but they are also easily cooked at home.
There are the most famous among the most famous zeppole and panzarotti, small golden nuggets rich in taste. The first are simple clouds of pasta grown and fried (sometimes with seaweed), the panzarotti instead a sort of miniature cross with Parmesan and fiordilatte, fried without breading. The cuoppi can also be filled with fried calamari and anchovies, with a good dose of lemon.
in Neapolitan fryers you can find many other delicacies such as fried eggplant and zucchini, pasta frittatine with béchamel, minced meat and fiordilatte, zucchini flowers stuffed with ricotta, pizza wallet or fried.
A historical product is the tarallo nzogna (suet) and pepper, to be served with cold beer. Another typical dish is 'o pere e' or musso, meaning the foot of the pig and the snout of the veal, deriving from the popular poor cooking, boiled and eaten cold in small pieces with a lot of lemon.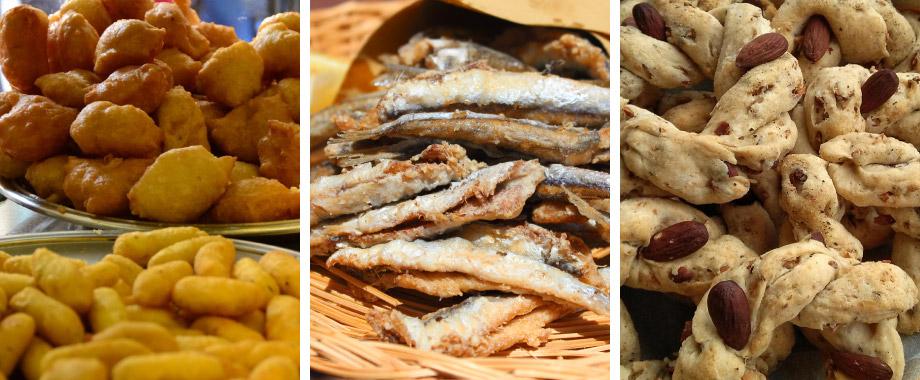 Spices of tradition: zeppole and panzarotti, fried anchovies, fried calamari, Taralli suet and pepper, casatiello, tripe, 'or pears and' or musso, fried vegetables, stuffed zucchini flowers, pasta frittatine, montanara, fried pizza, scagliuozzi (polenta) fried), Neapolitan sandwich, rice balls (arancini)
RECOMMENDED LOCALS:
• Where to eat the tarallo: Tarallificio Leopoldo, via Foria 212, via Epomeo 71, via V.Colonna 76, P.zza degli Artisti 6, via Toledo 8
• Where to eat 'or pear is musso: Tripperia Le Zendraglie, Via Pignasecca 14 - 80134 Naples
Drinks: coffee, wines and much more
In addition to food, there are also many typical drinks that all over the world are associated with Naples. First of all there is the coffee, whose history of arrival in the city is not certain. It could have been introduced into the 1614 by the musicologist Pietro Della Valle who brought a drink called from the Holy Land kahve or have arrived as a clandestine medicine through the School of Medicine of Salerno.
In any case, what you drink in Naples is considered by many the best in the world and according to tradition it must be prepared with the Cuccumella, the Neapolitan coffee pot, but now the moka is much more widespread. In the bars, however, you can enjoy an excellent espresso coffee.
To be tasted also typical liqueurs from Campania, like limoncello (the top is the one with the lemons of Sorrento), the nocino (or nocillo) prepared with walnuts and the nanassino, made from prickly pears.
As regards the wines, Campania is renowned for its reds (Aglianico, Taurasi, Falerno del Massico) and white (Falanghina, Greco di Tufo, Fiano, Lacryma Christi, Coda di Volpe).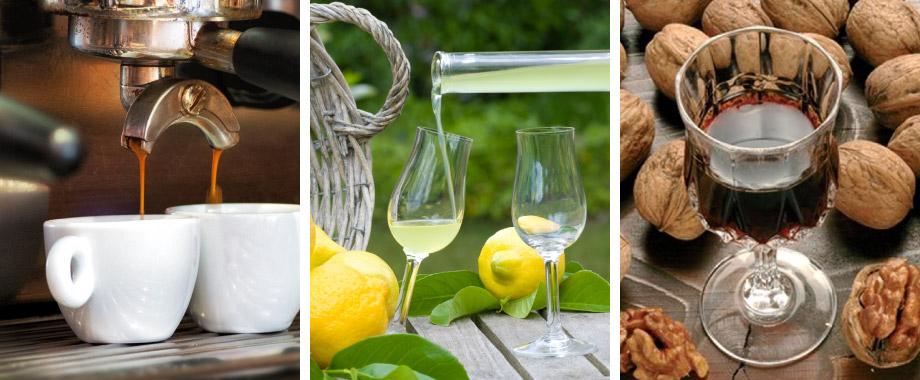 Typical drinks: coffee, limoncello, nocino / nocillo, nanassimo, mandarinetto, liqueur with basil, liquorice liqueur, red and white wines.
RECOMMENDED LOCALS:
• Where to drink the coffee: Professor's coffee, Piazza Trieste E Trento, 46 - 80132 Naples
• Where to buy the Limoncello: Limoné (liquor store), Piazza San Gaetano 72 ¬- 80138 Naples
La Pizza It is certainly the most famous gastronomic product of Naples in the world, with which in reality Italian pizza in general is also identified.
They are now dozens of variants that you can eat, but the classic versions are the seafaring and daisy. The first pizzerias were opened in the nineteenth century, but the marinara pizza was born already in 1734, while the daisy in 1796, although according to a "historical forgery" was created only in 1889 in honor of Queen Margherita di Savoia reproducing the colors of the flag with basil, mozzarella and tomato.
More famous versions of pizza they are those with bhoooooooooooooooooooooooooooooooooooooooooooooooooooooooooooooooooooooooooooooooooooooo, the 4 seasons (divided into 4 each with different toppings), the capricciosa, the Sicilian with mushroomed aubergines, ham and mushrooms, the devil with spicy salami and the stuffed in the oven or fried (with ricotta, provola and cicoli), but there are really all tastes.
Moreover, with the spread of the gourmet kitchen, pizzaioli are increasingly using the most sought after products, such as particular cheeses or vegetables, and high quality raw materials.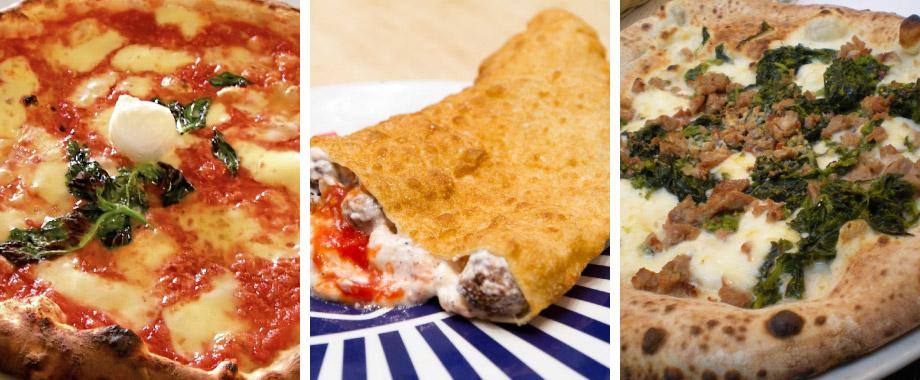 The most famous pizzas: Margherita, Marinara, stuffed with escarole, sausages and friarielli, baked or fried Calzone, Sicilian, filet with buffalo mozzarella, 4 seasons, capricciosa, cream, ham and mushrooms, caprese, mimosa.
RECOMMENDED LOCALS:
• Where to eat pizza: Sorbillo, Via dei Tribunali 32 - 80138 Naples | Antica Pizzeria da Michele (for the marinara): Via Cesare Sersale 1 - 80139 Naples
They might be interested in: