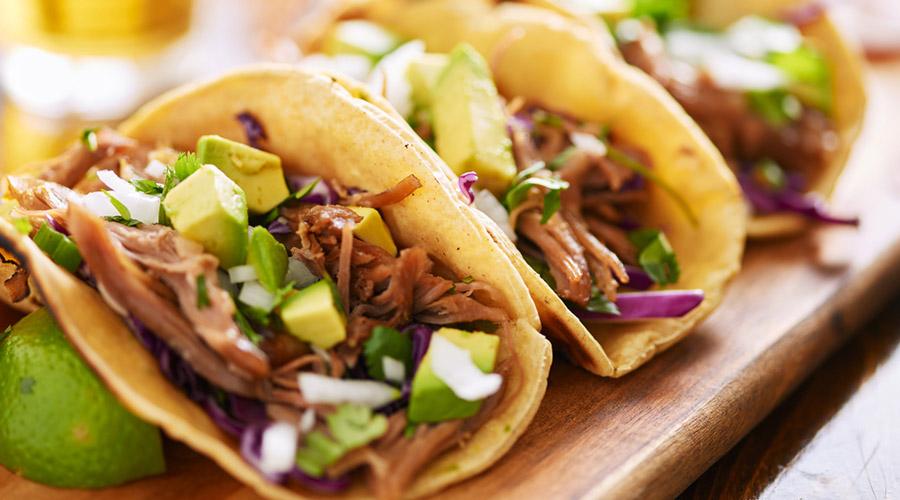 The best ethnic restaurants in Naples, from Greek to Ukrainian, from Spanish to Tunisian, passing through Mexican!
The culture of a country is largely reflected in food and culinary traditions. The Neapolitan people have always been linked to the cuisine of their land, but curiosity towards exotic flavors has gone well beyond kebab.
In Naples there are many local restaurants and ethnic restaurants that offer typical dishes of the most varied parts of the world, from South America to the Far East, from the countries of Eastern Europe to the northern coast of Africa.
With this article here we offer you a tour of the world in the kitchen!
1
Kosazka Sabava | Ukrainian
Not far from Piazza Carlo III is this restaurant of traditional Ukrainian cuisine. The atmosphere is welcoming and the party atmosphere. In fact, during lunch or dinner you will be accompanied by music and dances typical of Eastern EuropeWhile on some evenings you can attend the piano bar (strictly with local music).
Among the dishes to taste are the typical ones potato ravioli accompanied by sour cream sauce and mushroom sauce, Ukrainian pancakes (made with potatoes and mushroom cream), salt herring with onion, le soups, including the "borsch" and much more. To try them vodka, very different from the one we are used to.

planet 3200220918 Via Generale Raffaele Carrascosa 1, 80141 Naples
2
Milagros Paella Gastrobar | Spanish
Milagros is a restaurant that respects the Spanish culinary tradition, presenting different and authentic dishes compared to those commonly found in other Spanish-themed venues.
The chef is from Leòn and the menu, always different, also varies according to the outside temperature and is based almost entirely on a vast assortment of tapas, just like in the Spanish gastronomic habits. Thus, we can find ourselves to taste of the pincho moruno (a skewer of marinated pork, deriving from a recipe of the Arab-Andalusian tradition), of the cod with chickpeas and spinach or the salmorejo (a cold soup made with tomatoes, bread, garlic and olive oil) accompanied by the jamon iberico. In winter it will be possible to taste the famous ones hot soups, like that to lentils with chorizo ​​(a sausage) e Iberian bacon or almejas en green sauce (clams in green sauce, a dish from the Basque Country).
Available, of course, also the famous paella (both land and sea) and its variant Fideuà, to be enjoyed only on Thursdays.
Timetables:
Mon-Mar closed
merc-ju 19.30 - 23: 00
ven 19.30 - 00: 15
Sat 13.00 - 15: 00 / 19: 30 - 24: 00
Sun 19: 30 - 23: 00
Open for lunch during the week by reservation.

planet 081 032 0143 Via Santa Maria in Portico 15, 80122 Naples
Small, welcoming and famous for its tzaziki sauce, the Neapolis is located in the historic center, a few steps from the cloister of San Marcellino. Its rustic style is reinforced by excellent cuisine, with generous portions and fast service, just like in Greece. The Neapolis, run by Greek owners, offers both the restaurant formula is the takeaways, the most popular among customers. In addition to the classic referee, to taste also the souvlaki, moussaka, the dolmades (rice rolls in vine leaves), cheese Feta and the beloved one honey yogurt.
Timetables: tutti i giorni 12:00-15:00/20:00-0:00, sab 20:00-1:00, dom 20:00-0:00
Facebook page

planet 081 551 5584 Via Giovanni Paladino 22, 80138 - Naples
4
Amir | Arab Palestinian
Amir is an Arab restaurant, specialized in Palestinian cuisine, located a few steps from the Santa Chiara complex, in the historic center. The menu has many traditional dishes and you can order, for example, a Quozi (a pastry filled with rice and chicken with vegetable soup), hummus and the excellent of the cous cous or the sultan (a chicken breast with curry on a bed of rice). The desserts are also excellent, among the famous baklava.
To find an example of dinner with its cost, you can read our review at the local.
Timetables: every day 12: 00 - 15: 00, 20: 00 - 0: 30, Monday closed
Facebook page

medium-high 081 5527380 Via S. Chiara 25 - 80134 Naples
5
El Qods | Arabic-Tunisian
El Qods is a small one cafeteria with a few tables near the station. The proposed cuisine is Arabic and more specifically Tunisian. Its patrons go there mainly to taste the kebabs, among the best in the city.
Also excellent cous cous, rich in vegetables and legumes, and the typical "Saraq", a risotto of meat with vegetables cooked in tomato. The meal can be accompanied by homemade bread and a glass of Ayran, a typical Arabic drink based on yogurt, water and salt. To conclude, one must try one of the many sweets in the window.
Timetables: every day 10: 00 - 00: 00

economic 081 563 50 31 Via Torino 110, 80142 Naples
Open for over twenty years, it is a Mexican restaurant which offers the most famous traditional specialties. You can taste the typical ones nachos with salsa mex, tacos with chicken, meat and beans, burrito, tortillas and, naturally, the Mexican beans.
The are also served Fajitas, dishes based on beef, peppers and onion with the addition of spices, quesadillas with cheese and guacamole sauce. To drink, do not miss the sangria (red or white) and you can end the evening with a dessert or the tequila.
Timetables: every day 19: 30 - 1: 30

planet 081 406134 Via Giovanni Bausan 5 - 80121 Naples
Another characteristic local of via Bausan is El Mojito, which offers Cuban and Caribbean cuisine. Among the courses, we find exotic appetizers like the fried platano (the so-called tostones or chicharritas) or la manioca (yuca) and dishes like the costillas de cerdo with pinas, that is pork ribs with pineapple, or asado, grilled beef. A very special dish are the papalocas, the typical giant potatoes to be filled with food of your choice. Also in this case sangria can not miss to accompany the dishes.
Timetables: every day 20: 00 - 1: 00, Tuesday closed
Facebook page

planet 347 4565614 Via Giovanni Bausan 58 - 80121 Naples
The Kukai is among the best known Japanese restaurants of the city and certainly also among the most refined. The restaurant, in fact, is very trendy, in furniture and design, with soft lights and windows that contribute to creating a very relaxing atmosphere. Almost the menu all the dishes of contemporary Japanese cuisine. You can taste various types of sushi and sashimi, the noodles cooked in more variations (for example the one with the sea urchins), i hosomaki or the Tempura. A particularity are the soups, especially suitable in the winter period. Among the desserts, we recommend tasting the flan with green tea, with a very delicate flavor.

medium / high 081 411905 Via Carlo de Cesare 52 (Piazza Trieste and Trento corner) - 80132 Naples
9
Golden Dragon | Chinese
One of the Chinese restaurants more frequented by the Neapolitans. The environment is familiar and the staff always very kind.
The menu is the typical Chinese one we are used to: spring rolls, grilled spaghetti in different variations, passing through i steamed ravioli accompanied by soy sauce, followed by traditional seconds composed of chicken (fried, with vegetables, mushrooms, almonds, bamboo or fruit).
For those who want to dare more, there is something to choose from agropiccante pekinese soup and shark fin. At the end of the meal they will offer you a fortune cookie.

economic 081 790 1016 Via del Chiostro 21 / 23, 80134 - Naples
The Taj Mahal Indian restaurant is located near Piazza Municipio, in the center of Naples, and serves specialties both Indian and Pakistani. The courses are plentiful, from appetizers to desserts, and the menu is quite rich.
You can taste various types of appetizers, usually accompanied by two sauces (like the tamarind), and dishes like rice with vegetables and raisins, rice with chicken curry, spicy rice, Indian lentils.
Among the dishes that are most successful, the vegetable samosa, a triangular shell made with flour dough, fried or baked, and stuffed with different types of vegetables. In the menu there are also the typical Indian bread, excellent especially with cheese, the Chicken Tikka Masala (pieces of chicken served with a spicy sauce based on tomato, cream and masala) and the Murg Mussalam (spiced chicken with an onions-based sauce).
economic 320 3520399 Via San Giacomo, 25 / 26
11
Japao - Temakeria, Lobster Sandwich & Cocktail | Fusion
Colorful and cheerful restaurant that has recently opened at Vomero, has a kitchen fusion of Brazilian sushi.
Classic wines Japanese dishes are revisited in a gourmet key and contaminated with sauces, spices and especially exotic fruits such as mango, avocado and maracuja. In addition to sushi, we also find sandwiches and excellent desserts. To accompany the dishes, a variety of cocktails and special appetizers.

medium / expensive 081 060 8164 Via Luca Giordano 19 A and B - 80129 Naples
11
Brasita - Salgaderia | Brazilian
The most famous dishes of Brazil can be found from Brasita, the first salgaderia in Italy. Salgaderia is a typical Brazilian rosticceria, ranging from salty to sweet. Here, then, that we can taste the kibe (meatballs and mint), i cake (fagottini of beef or chicken with onion and corn), i brigadier (cocoa sweets) and many types of bolo, the sweet donut.
Timetables: lun-dom 12:00-22:00, ven 12:00-23:00, sab 11:00-23:00
Contacts: Facebook page

economic via Alessandro Scarlatti 190, Naples
Historic Arabic local of Naples, located near Piazza Amedeo, in the Chiaia area. All traditional dishes are served, such as cous cous, hummus, falafel and kebab. There is a possibility of smoke the aromatic narghile and to attend belly dance shows.

planet via Alessandro Scarlatti 190, Naples
This place offers an additional choice for lovers of oriental ethnic cuisine. The menu (even if it is not very large) presents all the most famous dishes of Thai cuisine, such as i rolls (handmade), the pad thai,Shrimp Salad and crab rice.
Timetables: every day 20: 00 - 0: 30, Sunday closed
Facebook page

planet via Caravaggio 128, Naples
11
Cicciarap | Philippine
Cicciarap is a Filipino restaurant that prepares by hand all the typical dishes of the place with fresh ingredients and in the traditional way as pansit, dinuguan and chopsuey from mouth watering. All you can eat and take away formulas are also available. There is also the possibility of using the catering service.

economic Via Melisurgo 10-12, Naples 320 805 7048
11
Red Marrakech | Moroccan
In the heart of the historic center, near other famous ethnic restaurants, you will find this restaurant that offers a varied Moroccan cuisine at very cheap prices. So many types of cous cous, kebab, meat and vegetables to choose from, without dubbing sweet and mint tea. Great for the lunch break.

economic Via Santa Chiara 7, 81100 Naples 389 99 48 207
They might be interested in: