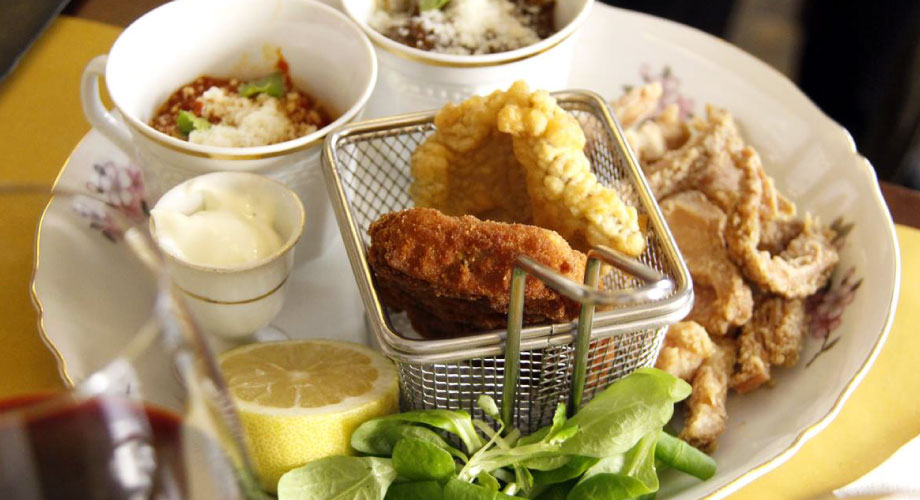 The unusual places to eat in Naples with original and exquisite dishes to be enjoyed with friends or family.
If you are looking for unusual places to eat out in Naples, we recommend restaurants, trattorias and really original places.
Deciding to have lunch or dinner outside the home always means having a wide choice of pizzerias, restaurants, pubs, clubs and the endless offer of street food, but if you are looking for something really uncommon, you can not avoid the places suggested in our article that will leave you speechless and fully satisfied.
Each of these premises is characterized by a particularity very original, offering customers dishes prepared with recipes impossible to find elsewhere.
There are so Baccalaria specialized in cod, the Tripparia with many types of tripe, Cannabistrò which uses only hemp, Tandem whose dish is the ragu and many other places to be discovered.
Tripparia
In June 2017 was inaugurated this new local specialized in the preparation of the Tripe. The Trippariain fact, it is an inn of the Vomero in which not only can you try excellent dishes prepared following traditional Neapolitan recipes, but also delicious preparations based on very original tripe.
Among the most particular dishes there is the trip and chips, but we can not but remain enraptured by the Roman tripe, from bucatini with rabbit to roman and from cod cooked in many ways.

planet 3925658878 Via Francesco Fracanzano, 9A - 80127 Naples
Baccalaria
In the historical center, the Baccalaria is an inn dedicated to the preparation of cod. Being not far from the sea, it wants to bring out the typically seafaring character of the place where it is located, but also to make the most of the incomparable flavor of cod.
Among the most particular dishes, there are those that reinterpret international recipes by proposing them based on cod: the Pico de gallo with cod reminiscent of Mexican cuisine, the Salt cod souvlaki with greek salad and the cod in jerk-style jerk sauce. Of course there is no lack of classics, such as fried or baked cod, gourmet dishes including cod with potatoes and truffles or with saffron and pasta dishes with this fantastic fish.

medium / high 0810120049 Piazzetta Di Porto, 4 - 80134 Naples
Tandem
The specialty of this place, which now counts well 4 locations in Naples, it is the ragout. The first venue, Tandem Ragù, was born with a very original idea: eat ragù paying it 1 euro per minute. Upon arrival of the dishes at the table, the waiter brings a stopwatch and, once finished eating, you can stop it by paying only for the minutes actually spent.
Al Tandem Steak, you can also taste the Genoese and tasty meat dishes, such as Fiorentina and Black Angus. The Takeaway Tandeminstead, it is a take away, while the Tandem shoes proposes the shoe with meatballs, ragù or genovese to accompany with an excellent aperitif.

profit / medium Tandem: Via Paladino, 51 - 80134 Naples 08119002468 | Steak: Via Seat of Porto, 51 - 80138 Naples 08119245894 | Scarpetteria: Via SGMPignatelli, 1 - 80134 Naples 08119708586 | Take-away: Via Mezzocannone, 75 - 80134 Naples 08119180196
Valù Risotteria
Valu it is a risotteria that is found both in the historic center and at Vomero and specializes in risotto of all kinds. In the menu they can be found about 30, from the more traditional ones with courgettes and shrimps, to the more particular ones with pineapple cream, with pumpkin and provola cream, with walnuts and gorgonzola, pistachio cream and hazelnuts.
In addition, there are many varieties of rice, from Carnaroli to Venere rice. For those who are undecided, there is the possibility to choose the "trio of tastings", That is, various dishes with three types of risotto.

medium / high Vico Lungo del Gelso, 80 - 80134 Naples 0810381139 | Via Luca Giordano, 21 - 80127 Naples 0810491325
Muu Muuzzarella Lounge
The motto of this place with a very particular name is "milk to bite, mozzarella to drink " and from this we can deduce the originality of the activity. With 3 offices in Naples, Muu Muuzzarella reinterprets buffalo mozzarella in a personal way bell, serving it in dozens of different ways. The two owners have created many new recipes and perfect combinations with beers and wine, but also with meat, fish, vegetables, fries and salami.
Among the most particular dishes, buffalo morsels with pesto and apples, tuna morsels with mozzarella and crispy salmon with mozzarella sauce.

medium / high 081405370 Vico II alabardieri, 7 - 80121 Naples
The Sign - Cozzetiello
The Sign of Pozzuoli is a steampunk style gastropub which is located on the seafront. It is the most original restaurant in the area and its specialty is the cozzetiello, stuffed in so many different ways. This is the final part of a piece of peasant bread, emptied and filled with various ingredients, according to the inspiration of the owners and chefs.
The Sign's cozzetielli are definitely good gourmet food, but also refer to the Neapolitan gastronomic tradition, for which you can taste those with meatballs in tomato sauce, red or white aubergine parmigiana, mushroom-shaped aubergines, Pulled Pork, black sausage from Caserta with peppers and buffalo mozzarella fondue, Genoese and many others. The menu also offers sandwiches, fries, main courses and around 100 beers.

planet 0815260372 Corso Umberto I, 51 / A - 80078 Pozzuoli
I love Murtadell
As you can guess from the name, this small local in the center that's all dedicated to mortadella, but in gourmet version. The salami is declined in many recipes with innovative and original combinations that can make modern a very traditional food. You can taste the devilled chopping board, murtadell and friarielli, the taralli d'autore with mortadella pizzaiola and many other specialties.
A very nice initiative is theaperimurtadell, an aperitif accompanied by chopping board and bread.

planet 08119564243 Via Mezzocannone, 15 - 80134 Naples
Bed
L'etto is a restaurant where you pay "by weight", that is a figure every hundred grams of quantity of food that you choose. Every dish is served at buffet so you can safely choose how to compose your own tray using yourself and then go to the cash register to pay, after all dishes have been weighed.
You will receive a card to use every time you go to the restaurant and you can also use the electric furnaces made available to heat the dishes. The buffet is very varied and includes appetizers, first and second courses, side dishes, salads, soups and desserts. The drinks are charged separately.

profit / medium 08119320967 Via Santa Maria di Costantinopoli, 103 - 80138 Naples
Cannabistrò
It's a place where everything is cooked using hemp as an ingredient. In fact, seeds, oils and flours used to prepare dishes on the menu are all made from hemp, including liqueurs, beers and sweets. To make everything even more complete, in winter the room is heated with a stove fed with hemp biethanol, an economical, natural and renewable fuel.
You can also relax with an aperitif in the early evening and the various snacks, up to a certain time, are cooked directly by the local chefs, such as bread bruschetta with hemp with provola and broccoli, caramelized onions, yellow tomatoes or courgettes. Among the other dishes, hemp crepes, smoked rum with hemp, hemp beer chicken and scamorza cheese with caramelized onions and hemp seeds.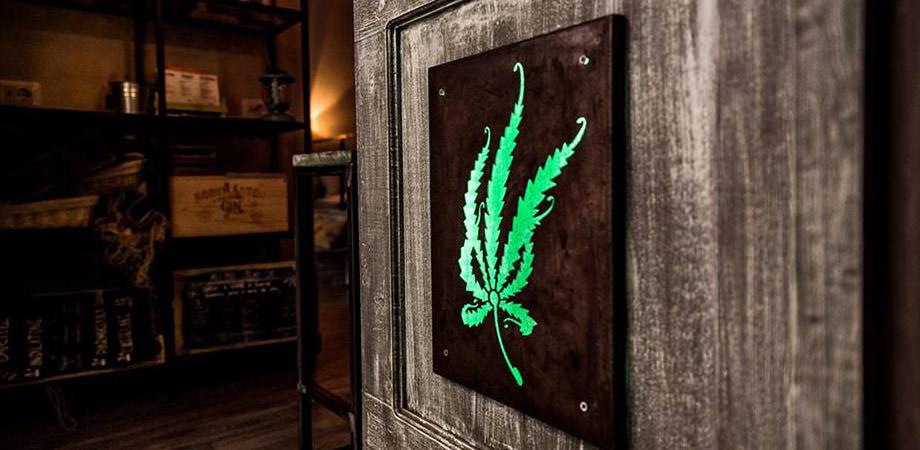 planet 08118582868 Via Bellini, 13 80135 - Naples
Antica Spaghetteria Francesco and Maria Sofia
The protagonists of the Spaghetteria menu are naturally the spaghetti, cooked in many ways and with many original and innovative condiments. There really is something for everyone, from those with aubergines and provola to those all'ubriacona, from spaghetti to Francesco and Maria Sofia to spaghetti lemon, up to those with squid ink.
The restaurant, however, also offers many other dishes including those of tradition such as the Genoese or amatriciana, carbonara, cutlets, meats and cheeses. The portions are always generous, so surely you will come out fully satisfied.

economic 3397085522 Via Giovanni Paladino, 7-80138 Naples
Sciardac
Bacoli's historic delicatessen, is today also a "Mediterranean Bakery"Where you can find high quality pastry products, but also tea, coffee, meats, cheeses and excellent pasta dishes. The peculiarities of this place are the original combinations and the continuous search for new flavors which pushes the owner to travel continuously around the world to discover realities to be inspired by.
Particular attention is given to coffee and tea whose variety is really wide. They are perfect to accompany desserts that, in recent years, are becoming the strong point of the restaurant.
On the menu there are also many desserts and American products such as pancakes, cookies, velvet cake, brownie, Oreo, Reese's and Pop Tarts, but also sweets of our tradition such as millefeuille, cookies, croissants. In general they can be tasted chopping boards, cakes, pasta dishes always different, croutons, eggs in various ways, salads, smoothies, smoothie and hot chocolate.

planet 3334730081-0815234912 Via Roma, 128 - 80070 Bacoli (Naples)
Salmoneria Upnea
Upnea is a delicatessen-bistro of the historical center of Naples that every day proposes very fresh products of the Campania tradition. Passion and research are the basis of every dish in the menu and you can also find organic and artisanal products.
The strong points are definitely the ragout, done pippiare at least 36 hours following the original recipe and selected beef, i salami of black pig from Caserta, the cheeses and the Polish, typical sweet dell'Agro aversano baked every morning. The centrifuged organic fruit deserves a special mention seasonal vegetables and beers handmade by.

planet 08119364649 Via S. Giovanni Maggiore Pignatelli, 34 - 80134 Naples
They might be interested in: